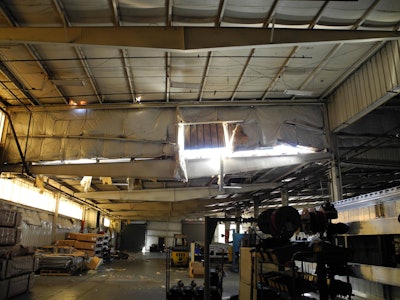 Marmon Highway Technologies said Tuesday, May 3, that several of its Alabama companies that were impacted by the tornadoes that tore through the state on Wednesday, April 27, now are recovering. Fontaine Trailer Co.'s flagship manufacturing facility in Haleyville lost power and sustained significant structural damage to its north side and roof. Repairs are under way, and one production line was brought back into operation Tuesday, May 3, with the other two scheduled to start up Wednesday, May 4.
The headquarters and manufacturing campus of Webb Wheel Aftermarket, Webb Wheel OEM, Webb Wheel Severe Duty and TSE Brakes in Cullman also lost power, but new backup generators have been brought online. All MHT employees survived the storms, although some lost loved ones, including a TSE Brakes employee whose two young sons were killed. Many employees' homes and other property were damaged or destroyed.
"I'm deeply saddened by the tragic loss of life, as well as the unprecedented property damage these storms have caused," says Kelly Dier, MHT president. "My heart goes out to everyone across the South who was affected by the storms. On a personal level, I'm thankful that, by and large, the MHT family is safe. A number of our employees have sustained personal property damage, and we're working directly to assist these team members. We're extremely fortunate to have multiple plants across Alabama, Tennessee, North Carolina and South Carolina that were largely unharmed."
Fontaine Trailer's platform trailer manufacturing plant in Haleyville, a landmark since 1964, was the hardest hit of the MHT facilities. Although the facility sustained structural damage, including the loss of its roof, the manufacturing equipment inside remains in good condition and the finished trailers onsite were unharmed. The north wall and roof have been temporarily repaired, and production resumed Tuesday, May 3. The company expects permanent repairs to be complete in about a month.
"It's unbelievable what people can do when they pull together," says John Craig, president of Fontaine Trailer Co. "The plant looks really good now. We're running two shifts to catch up on production. Some customers may see a slight delay in order delivery short-term, but we're working hard to meet our delivery commitments and our customers' needs."
At the Brake and Wheel Ends Group campus in Cullman, a tornado passed within 800 to 1,000 yards of the TSE and Webb Wheel facilities, but did not cause any damage. The storms knocked out transmission lines from the nearby nuclear power plant, causing the campus to lose power for a projected seven to nine days. By Friday, Webb Wheel and TSE had brought auxiliary power generators online to power nonmanufacturing operations, and over the weekend, three more large portable generators were brought in to supply power to the production facilities; they are currently powering the Webb Wheel Aftermarket plant.
Main power returned to the Webb Wheel Severe Service facility Monday, May 2. TSE is headquartered in Cullman, but its manufacturing plant is located elsewhere and was unaffected by the storm. "We may have a couple of small hiccups over a few days, but we should be able to maintain our service levels for our customers," says J.T. Weis, president of MHT Brake and Wheel Ends Group.