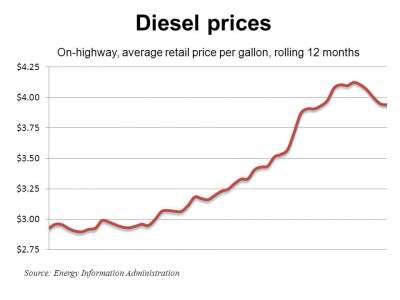 The national average price of on-highway diesel dropped once again during the week ended Monday, June 6, although not by much, according to figures reported by the U.S. Department of Energy's Energy Information Administration. Prices, which dropped eight-tenths of a cent to $3.94 a gallon, now have fallen 18.4 cents in the past five weeks. The last time diesel prices declined for five straight weeks was between late May and early June 2010.
Diesel prices are 99.4 cents higher than the same week last year. The average price of diesel declined in all regions, ranging from fourth-tenths of a cent in California to 1.6 cents in New England. California has the nation's most expensive diesel at $4.223 a gallon, while Gulf Coast diesel is cheapest at $3.877.
Complete diesel price information is available on EIA's website.