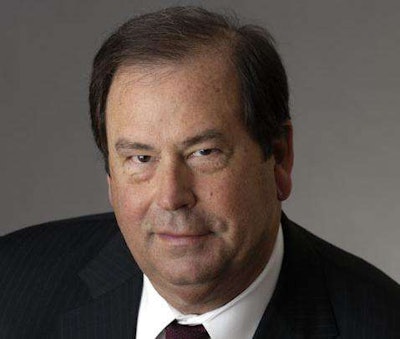 The U.S. Chamber of Commerce's board of directors on Wednesday, June 8, elected John Ruan III as chairman for a one-year term. Ruan, chairman of Iowa-based Ruan Transportation Management Systems, takes on the role held by Thomas D. Bell, chairman of SecurAmerica.
"John possesses an unwavering commitment to free enterprise and civic-mindedness," says Thomas Donohue, U.S. Chamber president and chief executive officer. "I can't think of a more appropriate person to serve as chairman during the chamber's centennial celebration in 2012. You won't find anyone more loyal and dedicated to the chamber and to the people, principles and causes he believes in."
A longtime U.S. Chamber director, Ruan is a strong proponent of additional investment in infrastructure. "The physical platform of our economy is deteriorating, and without reinforcement, the United States will struggle to compete against nations that are making significant improvements to their infrastructure," he says. "There are ways to commit to the level of investment we need with minimal impact on the deficit."
The nation's soaring debt and deficits also weigh heavily on the nation's competitiveness, according to Ruan. "Our nation's fiscal situation is unsustainable, and I will support the chamber's efforts to bring lawmakers together to forge a bipartisan, responsible deficit reduction plan that doesn't impede economic growth."
The Ruan family business, which started more than 78 years ago as a single gravel-hauling truck, is now a fleet of 5,100 trailers and 3,300 power units operating nationwide and serving customers in the bulk food and dairy, retail, metals service centers, grocery, chemicals and industrial gas industries.
Today the business includes BTC Financial Corp., Iowa's largest and oldest independent bank, of which John III is chairman; Iowa Export-Import, which serves as a marketing channel for agricultural and automotive exports and imports; Ruan Properties; a used truck and trailer dealership; a commercial auto leasing service; and an Avis car rental license.
Throughout his career, Ruan has demonstrated leadership in advocacy and philanthropy, overseeing the John Ruan Foundation Trust, which funds arts, culture and civic projects in Des Moines. The Ruan family was presented with the Bravo Award by Bravo Greater Des Moines in 2011 for its significant contribution to arts and culture in Greater Des Moines.
He is also director and chairman of Iowa Export-Import and The World Food Prize Foundation; director, chairman and president of City Center Corp.; director of Seven Hundred Grand Association; trustee of John Ruan Foundation Trust; and director, chairman, president and CEO of Ruan Center Corp., Ruan Car Sales Inc. and Ruan Inc.
Outside of the transportation business, John is a director of the National Chamber Foundation. Ruan also serves as a director of Hubbell Realty Co., Iowa Business Council, Greater Des Moines Partnership, Downtown Community Alliance, Chief Executives Organization and Castle Pines Golf Club. He is trustee of Culver Educational Foundation and immediate past chairman of The Des Moines Metropolitan Planning Organization and The Greater Des Moines YMCA.