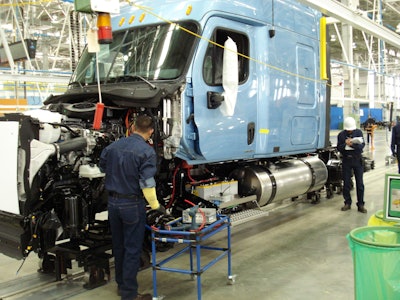 Daimler Trucks North America on Thursday, June 9, announced plans to sharply increase production and employment levels at its truck manufacturing plants in Mt. Holly, N.C., and Portland, Ore., during the last half of 2011. Production and hiring also will increase significantly at the company's Saltillo plant in Mexico.
More than 1,230 new employees will be added to the company's manufacturing and administrative payroll in these three locations to accommodate rising customer demand for the company's Freightliner and Western Star trucks. In addition, more than 120 shop and staff employees will be added at the company's parts manufacturing plant in Gastonia, N.C.
Company officials confirmed that the hiring plans announced are in addition to the more than 1,300 positions filled in the company's truck and parts facilities during the first half of 2011.
"Our manufacturing network is highly scalable, and together with our component suppliers, we are fully prepared to handle current and projected order levels," says Roger Nielsen, DTNA chief operating officer. "We have the capacity and the leverage to meet customer delivery schedules despite the industry supply challenges associated with economic recovery and recent global events. We take great pride in our manufacturing work force and in the proven performance, quality and popularity of our vehicles."
The Mt. Holly plant will add a second shift to its operations and plans to fill an additional 535 manufacturing and 37 related administrative positions by September. The plant manufactures Freightliner M2 Business Class medium-duty, hybrid and natural gas trucks, as well as Freightliner's new line of 108SD and 114SD trucks built for the severe-duty vocational truck markets.