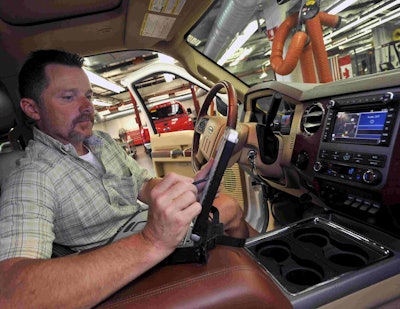 Ford Motor Co. and Telogis announced that Ford is joining with Telogis, provider of a location intelligence platform, to provide fleet customers with a comprehensive, scalable telematics solution for fleet operations. The next-generation Crew Chief powered by Telogis is available at all Ford dealers in North America.
Crew Chief is designed to provide fleet managers with real-time tracking in three areas of fleet operations: vehicle location and trip information, vehicle and driver performance, and vehicle diagnostics. Fleet managers will be able to use this real-time vehicle visibility to increase fleet productivity, safety and efficiency.
Ford will offer its current and future fleet customers Crew Chief with one year of service at all dealers in the United States and Canada. For Ford customers, Crew Chief powered by Telogis provides Ford Insight alerts and reports, including areas such as safety belt usage, water-in-diesel, accurate miles per gallon, diagnostic trouble code decoding, tire pressure and air bag status.
"Telogis was the right choice for Ford because of their proven track record of success with current and potential Ford customers and the ability of their platform to further differentiate the Crew Chief offering," says Bill Frykman, product development manager of Ford Connected Service Solutions."
Telogis provides a single-platform Software-as-a-Service enterprise offering for routing, mobility and telematics. Telogis says its platform delivers a broad range of vital fleet data, including visually enhanced real-time alerts, and provides actionable information and dashboard-based decision support to make fleets safer, greener and more efficient.
"We are excited to partner with Ford to deliver this next-generation version of Crew Chief that takes full advantage of the Telogis platform," says Susan Heystee, executive vice president of global sales for Telogis.