Technology processes driver applicants quickly and thoroughly
By Aaron Huff
The shortage of qualified drivers has become a serious concern for fleet executives who now are trying every trick in the book to beat other carriers to the best candidates. Besides increasing pay and benefits to recruit new drivers, many have revamped their hiring process with new technologies and services to increase speed and efficiency.
Before a hiring decision can be made, carriers are required by the Federal Motor Carrier Safety Administration to obtain a three-year driving and employment history. Further, the Department of Transportation requires a pre-employment drug test and a three-year drug/alcohol violation history.
Companies that offer screening services include HireRight, iiX, Sterling Infosystems and CoreLogic. Outsourcing the minimal requirements to these companies can subtract hours – even days – from the hiring process. It also can ensure compliance to avoid fines and legal exposure due to negligent hiring practices.
Outsourcing can speed the hiring process.
The Compli Recruiting module is a work force management platform that has real-time integration with Sterling to order screenings directly from within the software. Screening results, from driving records to criminal background checks and Social Security verification, are transmitted immediately upon completion of the screen.
"Seamlessly integrating the screening process into automated business process workflow creates efficiencies and increased productivity across the organization," says Nick Goodell, Compli's general manager of trucking and transportation.
Going online
Completing the minimum screening requirements can be done only after drivers apply for a job. By today's standards, filling out a paper application is an inefficient way to capture needed information to make a quick hiring decision. Drivers are becoming technology-savvy, and the application process is changing.
Carriers now can reduce labor costs by collecting applications electronically and using that data to qualify and hire drivers more rapidly.
In November 2009, Little Rock, Ark.-based Maverick Transportation went live with the EBE Ships platform for recruiting and hiring drivers. Drivers could complete applications online prior to using Ships, but recruiters for the 1,200-truck company were hand-keying applicant information into another software system.
Carriers now can reduce labor costs by collecting applications electronically.
Now, all Web applications feed into Ships automatically, and the information is distributed to recruiters based on current workload. The Web application forces drivers to complete certain fields to avoid delays caused by partial applications. Drivers also sign applications online, and Maverick can order screening reports immediately. The software also sends faxes to companies to verify past employment.
"We have been able to hire more quality drivers with a quicker turnaround time," says Brad Vaughn, Maverick's director of recruiting.
Incorporating PSPs
FMCSA's Pre-Employment Screening Program provides access to drivers' inspection and crash records as part of the hiring process. While not required, carriers that use PSP can gain access to five years of driver crash data and three years of inspection data, which includes serious safety violations in the BASICs (Behavioral Analysis and Safety Improvement Categories) of unsafe driving, hours of service, controlled substances and alcohol, and valid medical qualifications.
To make PSP data more manageable, Vigillo offers the PSP Converter, a downloadable application that converts PSP reports in PDF format to scorecards for analysis of driver candidates. The scorecard includes CSA points by BASIC, Average CSA Points Per Inspection (APPI) and a safety event timeline that graphically displays an applicant's roadside performance history.
Hartt Transportation, a Bangor, Maine-based truckload carrier, recently began using Vigillo's PSP Converter to evaluate driver applicants. The 600-truck company converts up to 50 PSP reports a month.
"We use it to see if patterns are forming," says Dale Hanington, corporate safety manager. "It is something additional we do to help screen drivers to make sure we get the best and safest."
Before using EBE Ships recruiting software, Maverick Transportation would have to logon to the FMCSA Website to order PSP reports. Now, with one mouseclick, the EBE system orders a PSP and shows how an individual driver compares with fleet averages for CSA performance.
Carriers can use technology-based driver screening programs to go beyond the minimum requirements and truly maximize their return on investment.
PeopleNet to release more efficient, compact BLU
PeopleNet, a provider of integrated onboard computing and mobile communications systems, introduced a more efficient, compact version of its BLU in-cab computing system. "A lot of what we do is based on feedback from our customer base and market segments," says Matt Voda, vice president of product management. "This next step for the BLU platform was driven by feedback to come out with a new generation of this device."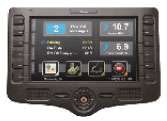 PeopleNet released the first version of its BLU platform in 2007. About two years ago, customer focus groups showed interest in a smaller form factor for an in-cab hardware device. The company started developing the BLU.2 platform last year and began beta-testing units with customers early this year. Shipments of the new device will begin in the third quarter.
PeopleNet plans to offer attractive pricing to customers running the original BLU platform or the earlier LCD Driver Terminal display to upgrade to BLU.2, Voda says. However, BLU.2 was designed only to replace the in-cab display and not the existing base unit, G3.
"Our next-generation BLU.2 onboard computing system demonstrates our continued support of BLU as a platform," says Ron Konezny, PeopleNet chief executive officer. "In addition to new features that enhance driver efficiency, it's 65 percent lighter, thinner and provides better extreme temperature performance, with 40 percent faster startup in cold weather."
Running on WinCE 6.0, BLU.2 operates more quietly and offers more installation options and louder sound range to enhance the platform's Text to Speech feature, which allows drivers to play an audio version of messages. Safe Mode enables fleets to limit driver interaction with the system while the vehicle is moving.
IN BRIEF
Rair (
www.rairtech.com
), a provider of safety and compliance services, introduced two enhancements using Microsoft Silverlight technology to its CSA solution, including a more fluid reporting environment and a new report that links CSA data to audited Driver Vehicle Inspection Reports (DVIRs).
* Networkfleet (
www.networkfleet.com
), a provider of wireless fleet management, released Networkfleet Connect, a set of field management capabilities that integrate with compatible Garmin navigation devices.
* Telogis (
www.telogis.com
), provider of a location intelligence platform, joined with Ford Motor Co. to provide fleet customers with a scalable telematics solution. The next-generation Crew Chief powered by Telogis is available at all Ford dealers in North America.
* Vigillo (www.vigillo.com), a provider of data-mining software products and scorecards, created a new division, IQLab, to meet demand for custom reporting and data analytics.
* Xata Corp. (www.xata.com), a provider of fleet optimization software, announced that its Xata Turnpike fleet management and compliance solution now supports the Google Android mobile-device operating system across multiple wireless carriers.
* PCS Software (www.pcssoft.com), a developer of integrated transportation management software products, released Mobile XpressTrax for the iPhone, a GPS and driver communications application that interfaces with the PCS Express Transportation Management Systems.