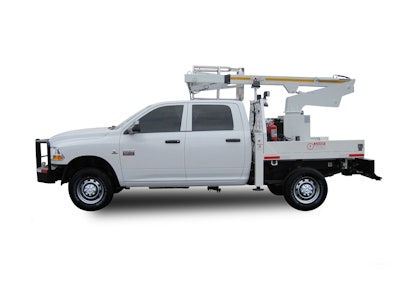 Cummins has announced the certification of a Mine Safety and Health Administration (MSHA)- approved Cummins 6.7L Turbo Diesel for the Ram underground mining truck. This specially calibrated Cummins Turbo Diesel, which powers the Ram underground mining pickup, gives customers the pulling power they demand while safely meeting every underground mine need.
MSHA underground mining regulations protect the air quality in underground mines, which helps prevent the buildup of potentially explosive gas and dust and reduces emissions for miners. To continue to provide the best MSHA-approved products for underground mine sites, Cummins and Chrysler once again partnered to launch the newest pickup for use in underground mines.
The 175-hp (130 kW) Cummins 6.7L Turbo Diesel in the Ram is the only truck engine certified by the MSHA for use in coal and metal/nonmetal mining for all 50 states. This certification is based on the truck's combination of high payload, a low-emissions engine, and maneuverability in confined spaces. Through emissions reduction, including a 42 percent particulate index reduction and a ventilation rate decrease of 10 percent from the previous certification, mine operators can reduce their annual expenditure on mine ventilation by thousands of dollars for each Ram in their fleet.
The truck is powered by a lower-emissions version of the Cummins 6.7L Turbo Diesel used in standard on-highway Ram Chassis Cab trucks today. Based on extensive customer interviews, the reliable and dependable Cummins Turbo Diesel has been electronically recalibrated to match the lower emissions profile while still delivering the unique power output required for underground operations. In underground mining applications, the engine's programming and rating have been modified to a mining calibration and built to tolerate higher sulfur fuel levels that may exist outside the United States.
Beyond the specially rated MSHA-approved Cummins engine, the underground Ram can be equipped by trained upfitters with protection systems such as automatic fire suppression, wire shielding, marine-grade fuel lines and thermal trip wires. The underground Ram is available now in the United States and Canada, and comes in several configurations.