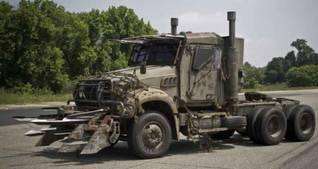 A Mack truck once again makes it to the big screen, this time in a leading role as Megatron, leader of the Decepticons, in the DreamWorks Pictures/Paramount Pictures' production "Transformers: Dark of the Moon," directed by Michael Bay.
In the movie – the third of the "Transformers" series – Megatron takes form as a Mack Granite military truck and leads the Decepticons in an epic battle against the Autobots. The Mack Granite joins the "Transformers: Dark of the Moon" cast alongside Shia LaBeouf, Rosie Huntington-Whiteley, Tyrese Gibson, Josh Duhamel and John Turturro.
"Mack trucks are known around the world for their ruggedness and durability," says Kevin Flaherty, Mack senior vice president, U.S. and Canada. "The Mack Granite is designed to handle tough jobs, making it a great choice for the hard-to-destroy Megatron."
"Transformers: Dark of the Moon" is the second Transformers movie to feature Mack trucks. "Transformers: Revenge of the Fallen" included two Mack Pinnacle tractors and a Mack Granite mixer truck.
"When we were approached again for the third movie, given the nature of the role, we immediately agreed with the selection of a Mack military truck to play the vehicle mode for Megatron," said Flaherty. "Our customers, fans and employees are always excited to see a Mack on the big screen, and, in this case, front and center – it also introduces the brand to an even wider audience."
Fans of Hasbro's Transformers brand and Mack will be able to bring some of the movie excitement home. Five Megatron action figures that switch from robot mode to Mack truck mode, as well as a video game with a Mack presence, are being released as part of the "Transformers: Dark of the Moon" launch. The merchandise can be purchased at major national retailers and soon will be available online at www.mackshop.com and at the Mack Store at the company's headquarters in Greensboro, N.C.