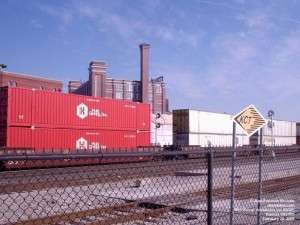 Hub Group Inc. reported income of $14.4 million for the second quarter ended June 30, an increase of 49 percent compared to the second quarter of 2010. Diluted earnings per share was $0.39, an increase of 50 percent.
"We had a solid quarter with a 66 percent increase in revenue that came from organic growth and our acquisition," said David P. Yeager, chairman and chief executive officer of the Downers Grove, Ill-based company. "We are executing well against our strategic priorities, which resulted in 50 percent growth in EPS."
Hub Group acquired Exel Transportation Services, renamed Mode Transportation, on April 1. Hub Group now will report two distinct business segments, Hub and Mode. The Mode segment includes only the newly acquired business, while the Hub segment includes all Hub Group business excluding Mode.
The Hub segment's revenue increased 22 percent to $560 million. Intermodal revenue increased 24 percent to $396 million, attributable to a 12 percent volume increase and a 12 percent increase for fuel, price and mix. Truck brokerage revenue increased 4 percent to $90 million. Unyson Logistics revenue increased 45 percent to $74 million. Hub's operating income increased $6.9 million, an increase of 44 percent. The Hub results include about $400,000 of severance related primarily to truck brokerage operations.
The Mode segment's revenue was $202 million, and its operating income was $1.3 million. The Mode results include about $350,000 of costs related to the acquisition and integration.
Hub Group ended the quarter with $18 million in cash.