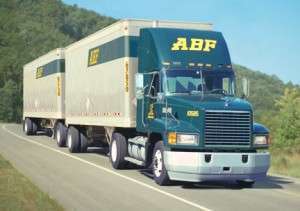 Arkansas Best Corporation announced second quarter 2011 net income of $5.3 million, or $0.20 per share, compared to a net loss of $7.4 million, or $0.30 per share, in the second quarter of 2010. Revenues for the quarter totaled $498.6 million, a 21.2 percent increase from the prior year second quarter revenue of $411.3 million.
The company cites ABF's healthy tonnage levels combined with an emphasis on increased account pricing for its return to profitability in the second quarter. ABF improved its operating ratio by over five operating points versus the same period last year and nearly seven and a half operating points versus the previous quarter.
"We are pleased with the improvement in our company's performance and the steps we have taken toward restoring Arkansas Best's historical profit margins," said Judy R. McReynolds, Arkansas Best president and chief executive officer. "However, the progress made so far does not produce sufficient returns for our shareholders nor does it allow us to adequately recapitalize our business. Further profitability gains should result from improved pricing on ABF's existing account base and from continuing efforts to achieve a more competitive cost structure. ."
ABF Freight System posted revenue of $458.5 million compared to $379.4 million in second quarter 2010, a per-day increase of 20.8 percent. Tonnage per-day increased 9.9 percent versus second quarter 2010.
"Last quarter I described various initiatives that were under way to address inadequate pricing and improve the profitability on a large number of accounts," said McReynolds. "Throughout the second quarter, ABF held firm on requests to better match individual customer revenues with the high level of service and superior value that ABF offers. Though these pricing actions have caused some business to go to other carriers, the success of our efforts is reflected in ABF's return to profitability."