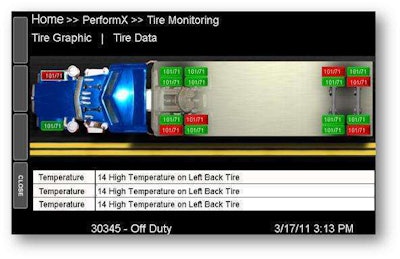 PeopleNet, a provider of integrated onboard computing and mobile communications systems for fleet management, announced the addition of two companies — Doran Manufacturing and BatRF by Stemco — that integrate with its Tire Pressure Monitoring Service.
PeopleNet initially began offering tire pressure monitoring in 2010 with Advantage PressurePro.
In addition to expanding the company's integrated tire pressure monitoring offerings, the company has a new Tire Pressure Reporting feature that provides drivers with a graphical display of current tire pressure status of both the tractor and trailer, as well as real-time tire-pressure alarms. The alarms are also transmitted to the PeopleNet Fleet Manager, the web-based interface.
PeopleNet created a uniform graphical display for its BLU and Tablet computing platforms that presents the same information to drivers regardless of which vendor customers choose to use.
"Our new Tire Pressure Reporting feature helps fleets proactively combat one of the most common causes of downtime and maintenance headaches," said Chief Operating Officer Brian McLaughlin. "When tire pressure exceeds programmed thresholds, the PeopleNet Fleet Manager sends real-time alarms to drivers and, if warranted, emails to fleet managers. It's all about early warning to eliminate future, more severe and costly situations like a blown tire."
The new feature provides historical reporting. It works on all PeopleNet display platforms including PeopleNet Driver Terminal, PeopleNet BLU and PeopleNet Tablet.
PeopleNet made the announcement at the ninth annual PeopleNet User Conference being held August 15-17 in Boca Raton, Fla., at the Boca Raton Resort.