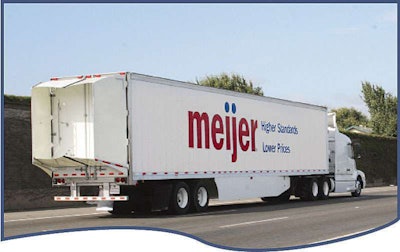 Smart fleets are searching for savings with aerodynamic tractor-trailer combinations
The concept of aerodynamics dates back hundreds of years and includes contributions from great minds like Leonardo da Vinci, Isaac Newton and the Wright Brothers. But it's only been within the past 25 years or so that aerodynamics started making inroads into heavy-duty tractor-trailer applications.
Aerodynamic science accelerated as the age of flight dawned in the early 20th century. In the 1930s, railroad designers were developing elegant art-deco streamliner trains for express rail service. The concept of using aerodynamics to enhance performance on large transport vehicles was understood, but the emphasis in rail applications was on increased vehicle speed because fuel was cheap; fuel efficiency benefits obtained from aerodynamic designs were deemed a happy side-effect.
Aerodynamic considerations on early truck designs were based primarily on optimizing airflow into the radiator and engine compartment as a means of temperature control. It wasn't until the OPEC oil crisis in the 1970s that North American truck manufacturers began to contemplate cleaner aerodynamic designs, leading up to the industry's first aerodynamic tractor, the Kenworth T600A, in 1985.
But the marketplace itself was slow to recognize the possible economic and efficiency gains of aerodynamic designs: Fuel remained relatively cheap, and truckers remained fixated on conventional long-nose slab-grilled truck designs that had dominated the industry for decades.
Today, things certainly are different. While long-nose conventional designs remain popular with owner-operators, longhaul fleets faced with unpredictable fuel price spikes, razor-thin profit margins and intense competition are looking to shave every conceivable penny off fuel, maintenance and operating costs. And with projected fuel efficiency gains ranging from 5 to 7 percent for an aerodynamic tractor and up to 15 percent for trailers outfitted with aerodynamic fairings and components, aerodynamics are looking more attractive for fuel-conscious fleets.
Traditionally styled tractors have always stirred passion with truck drivers. "It takes a hard-nosed business variable like fuel prices to really impact that emotional appeal," says Erik Binns, market segment manager for Peterbilt. "That's what really delayed the industry transition to aerodynamic vehicles. But as fuel prices remain high or continue to rise and veteran drivers retire, aerodynamic models will continue to increase in the marketplace."
MinStar, an Eagan, Minn.-based longhaul dry fleet, began experimenting with aerodynamic tractors when fuel still was less than $1 a gallon. The company began working with trailer aerodynamics about a year ago. "We had some classic models in our fleet a few years ago," says Mitch Miller, president. "But we stay away from them now entirely because of the cost of fuel."
MinStar's current focus is on closing the gap between the cab and the trailer with adjustable fifth wheels, cab extenders, tank fairings and trailer skirts – and the results have been impressive. Based on the company's own testing, a full aerodynamic tractor-trailer combination gets ¾th of a mile per gallon better fuel economy than a nonaerodynamic rig. "At the end of the day, we feel that aerodynamics allow us to operate a fuel-efficient vehicle for $800 a month less than for a nonaerodynamic model," Miller says.
There also is a legislative push for increased tractor-trailer aerodynamics. "The aerodynamic trend is being driven by the unit cost of energy and reduction of the carbon footprint," says Dave McKenna, director of powertrain sales and marketing for Mack Trucks.
When diesel fuel prices drop to less than $3 a gallon, there is not much interest in spending money on an aerodynamic improvement that will take six years to pay for itself, McKenna says. "But at approximately $4 per gallon, there are a lot of 'aero-religious' converts." A new wrinkle on aerodynamics is the direct reduction of carbon dioxide when less diesel fuel is consumed. "If the federal government ever manages an equitable carbon cap-and-trade plan, the immediate benefit will be cash-based," he says.
California already is requiring trailers operating in the state to be U.S. Environmental Protection Agency SmartWay-compliant through its Heavy-Duty Tractor-Trailer Greenhouse Gas Regulation. The California Air Resources Board is requiring 53-foot trailers to be equipped with aerodynamic devices and low-rolling-resistance tires. In the case of refrigerated trailers, CARB requires aerodynamic devices capable of providing a 4 percent fuel savings, says Jason Forman, senior product development manager for Carrier Transicold's Performance Parts Group.
As the federal government's planned requirements for minimum fuel economy and limited CO2 emissions kick in later in the decade, the trucking industry will need to make additional improvements in fuel economy. The U.S. Department of Energy already has earmarked millions of dollars to help the cause, says Sean Graham, president of Freight Wing, a designer and manufacturer of aerodynamic trailer components.
"Our goal is to realize a 15 percent improvement in fuel economy over trailers without fairings," Graham says. That is a 6 percent improvement over what is commercially available now through the company's side skirt and gap fairing, and would come by adding fairings at the end of the trailer. "We're well on course to make this happen, and initial testing is encouraging," he says.
This testing has not been lost on CARB. "If you travel to California, then you're probably well aware of the details," Graham says. "In a nutshell, trailer side skirts and other aerodynamic components are coming – whether you like it or not." The CARB rule already applies to 2011 model dry van trailers; by 2013, any 53-foot trailer entering California must have SmartWay-verified aerodynamics and fuel-efficient tires unless fleets sign up for optional phase-in compliance plans.
Tricking out tractors
It doesn't take a degree in aeronautics to understand objects with smooth, rounded edges travel more efficiently through air than blunt surfaces with sharp, protruding appendages. But the ideal aerodynamic profile always must be governed by the task at hand; powertrains, passengers and cargo all have to be part of a design that allows work to get done. As a consequence, passenger cars and trucks traditionally have been easier to streamline than heavy-duty trucks – especially tractors tasked with pulling a huge 53-foot rectangular box behind them.
For aerodynamic engineers, the basic unit of measurement for a vehicle moving through a body of air is the drag coefficient, the measured amount of flowing air resistance over, around and sometimes under a vehicle or combination of vehicles such as a tractor and trailer. More drag resistance requires a greater energy output – and more fuel consumption – to maintain the same road speed.
"The best analogy I can think of is when you're going down the road at 65 mph with all the windows closed, and there tends to be a lower drag coefficient," McKenna says. Lower all the windows, and the wind buffeting in and around the window openings create a much higher drag coefficient. "The trick is to minimize any type of drag as much as possible," he says.
Drag coefficient increases exponentially relative to the increase in speed; the faster a streamlined vehicle moves, the more efficiently it moves through the air – although McKenna points out that even with a full aero package tractor-trailer combination, higher vehicle speed always increases drag coefficient. If 190 horsepower is required to move a tractor-trailer combination at 65 mph, an extra 75 horsepower would be required to go just 7 mph faster, so to get an increase in road speed of 11 percent, you need 39 percent more horsepower.
Any time drag is reduced on a vehicle, less energy – in this case, horsepower – is needed to maintain the same road speed. Even with all available aerodynamic gains, a sharp increase in road speed can easily negate any net fuel economy gains. Mack's research shows that an average road speed of 62 to 65 mph with a full array of aerodynamic components at work is the "best of both worlds" in terms of productivity and fuel economy, says McKenna.
All components of a vehicle's design invariably interact with each other, so optimizing the tractor, trailer and driver as a complete system of mutually supporting elements is essential.
"Enhancing synergy between leading-edge areas like the crown, windshield edges, mirrors and bumper with downstream effects on the tractor and trailer will yield optimal performance gains," says Rick Mihelic, manager of vehicle performance and engineering analysis for Peterbilt. "Research and development continues to be explored to optimize aerodynamic design options."
New developments ultimately will offer enhanced performance and efficiency, reduced operating complexity and improved maintenance intervals that will provide cost savings and a positive impact on the customer's bottom line, Mihelic says.
"We're already seeing this in current designs as OEMs and third parties work to provide components that further integrate combination vehicles," says Frank Bio, product manager for Volvo Trucks. "In
redesigning a truck for optimum aerodynamics, we have to look at all exterior components and how they interact together, all the way to the trailer. The entire truck works as a system, so a change to one component can affect how air flows around another. The closer we keep the air flowing around the truck, the lower our coefficient of drag."
Does all of this mean that we're likely to see Corvette-shaped tractors cruising down the highway in a few years' time? Not likely, according to Bio. "Designers must consider cost-effectiveness for the entire life of the vehicle," he says.
Radical design changes likely will mirror fuel costs, becoming more elaborate as those prices increase. Small rear and side-view cameras with dash-mounted displays are more aerodynamic options than traditional external mirrors, but cameras probably won't be adopted widely until the potential savings can justify their cost, Bio says.
Particularly tricky trailers
Streamlining tractors was a logical move from a design point of view. Dry van trailers, on the other hand, present aerodynamic engineers a whole host of problems. It's hard to imagine a less aerodynamic structure than a 53-foot long rectangular box rolling down the highway at 65 mph. This is more than just simply a holdover from the days of dollar-a-gallon fuel: Low-profile shapes cut through air more efficiently than high-profile ones, but reducing profile height on a trailer dramatically affects cargo capacity.
The problems with trailer aerodynamics start with the gap between the trailer and the tractor. Wind moving around even the most aerodynamic tractor gets sucked into this gap and creates a tremendous amount of turbulence and drag.
Cross-winds can add to the drag created in this area, so Freightliner Trucks has added scoops on its raised roofs to push air over the top of the trailer. "That's a key area of focus when we're designing aerodynamic devices for our tractors," says T.J. Reed, director of product marketing for Freightliner.
Another "black hole" from an aerodynamic standpoint is the trailer's underside. As with the tractor-trailer gap, air traveling past the trailer gets sucked in and under the trailer, creating even more drag and turbulence. Carriers increasingly are equipping trailers with side skirts to improve aerodynamics and fuel efficiency. "These relatively new devices are catching on quickly, and we feel trailer aerodynamics have reached a tipping point in the trucking industry," says Graham.
Freight Wing has invested heavily in SAE and TMC testing that has shown fuel improvements of up to 7 percent on trailers equipped with side skirts. "In real-world fleet operations, there are many variables that can impact performance, but we've found that fleets typically report 4 to 6 percent fuel economy improvements, depending upon their application and driving environment," says Graham. Freight Wing's research has shown a fast return on investment for trailer skirts, around 50,000 miles for most fleets.
Andy Acott, sales manager for Laydon Composites, says there are several choices in terms of trailer aerodynamics, but the components must be robust enough to stand up to everyday abuse throughout the trailer's useful life. "Look for a product with the least amount of metal or anything that can corrode, and something that installs fast and is easy to service if need be," says Acott, who also recommends making sure the add-on is SmartWay-certified as aerodynamically "Advanced" to ensure proper compliance and performance.
The final piece of the aerodynamic puzzle literally can be found in the wake of a dry van running down the road. The tall squared-off rear section of a typical dry van creates a vacuum as it moves forward at high speed. Because nature abhors a vacuum, air flowing around, over and under the trailer immediately curls inward and tries to fill this void. The vacuum and the turbulence created by the air trying to fill it add more drag, forcing the engine to work harder and burn more fuel.
That's where ATDynamics is focusing its efforts with the company's TrailerTail rear-mounted aerodynamic fins. "As trucking companies look for the next big thing after trailer skirting, they are quickly adopting rear drag aerodynamics technology," says Babur Ozden, chief marketing officer. TrailerTail rear-mounted fins are designed to create a funnel effect at the trailer's rear, preventing air from attempting to fill the low-pressure area and decreasing drag and turbulence.
TrailerTails deliver 6.6 percent fuel savings at 65 mph according to third-party SAE Type II J1321 testing, says Ozden, who points to other aerodynamic benefits such as increased trailer stability due to reduced turbulence at the rear of the vehicle, which reduces tire wear and driver fatigue while improving safety through reduced spray in wet weather.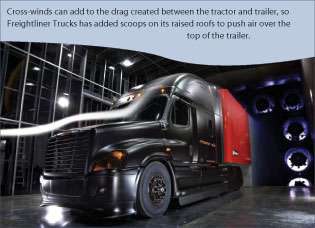 Tractor-trailer aerodynamics seem to be the most elusive of all trucking technologies – affordable, simple and passive systems that can impact a fleet's bottom line quickly and significantly. While radical tractor designs aren't likely, it seems the trucking industry is on the cusp of a new trend that slowly – but surely – will yield ever more efficient tractor-trailers in years to come.
How slippery can a rig get?

Aerodynamic components can lower a tractor-trailer's drag coefficient significantly as it moves along at highway speeds. The values given in the chart show approximate increases in aerodynamic efficiency compared to a tractor-trailer without those components. Keep in mind that aerodynamics work best as a system approach: Trailer gap extenders give aerodynamic increases between 1 and 3 percent when hooked to a nonaerodynamic tractor, but that figure jumps to 8 percent when coupled to a fully aerodynamic tractor. All values given are approximate and will vary according to tractor and trailer make and model, as well as application.
Aerodynamic front end: 5-7%
Rearview mirrors: 1-2%
Tractor roof fairing: 5-10%
Trailer gap fairing: 1-3% (up to 8% with full aerodynamic front end)
Tractor skirt (fuel tank cover): 1-3%
Tractor side extensions: 2-3%
Hubcaps: 1-2%
Trailer side skirt: 4-8%
Trailer tail: 3-5%
No stone left unturned
Mesilla Valley Transportation willing to try all things aerodynamic
The benefits of aerodynamic add-ons haven't been lost on Jimmy Ray, executive vice president of Mesilla Valley Transportation, a Las Cruces, N.M.-based longhaul dry van fleet and an early adopter of the technology. "We look at virtually every component and system on a truck and trailer with an eye toward saving fuel," Ray says.
All of MVT's trucks and trailer wheels are fitted with hubcaps because the fleet's own testing shows that hubcaps are good for about 1/100th of a gallon-per-mile boost in fuel economy compared to uncovered wheels and saves about $250 a year per tractor. "Our hubcaps pay for themselves annually as a result," he says. Streamlining side-mounted rear-view mirrors gained another 1/10th of a mile per gallon.
MVT technicians need about an hour to install skirts and a tail on a trailer, but that effort nets the fleet a fuel economy increase of about 8/10th of a gallon per mile. "All told, we see an overall fuel economy increase of about 1.2 miles per gallon with skirts and a tail on a trailer – and that's not getting real exotic," Ray says. "A good driver behind the wheel of one of our trucks can log 11 mpg, and a mediocre driver can easily get 8 mpg."
MVT takes its commitment
to fuel economy so seriously that every three months it awards a Harley-Davidson motorcycle to the driver with the best fuel economy for that period. "We know that while aerodynamic devices work great, the driver is still the single most important factor in getting good fuel economy from a tractor-trailer," Ray says. "But we're saving so much money on fuel costs with our aerodynamic package that a motorcycle every now and then is a small price to pay in return."