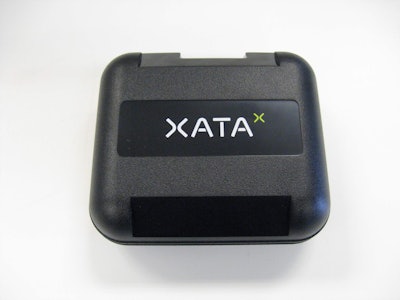 Xata Corp. has announced the availability of its new RouteTracker2 electronic onboard recorder for Xata Turnpike. Available to all new and current Xata Turnpike customers, the RouteTracker2 fits in the palm of a driver's hand and is designed for full compliance with current 395.15 regulations and the current released technical requirements for 395.16 EOBR.
"The RouteTracker2 is the latest example of Xata's ongoing commitment to making compliance easy and affordable for owner-operators and for private and for-hire fleets of all sizes," says Colin Warkentin, vice president of development for Xata. "Simple to install, it automatically tracks hours of service, speed, idle time, hard braking, routes, arrival and departure times, engine fault-codes and other data, including state mileage for IFTA reporting. And because it comes with over-the-air upgradable firmware, it can be updated anywhere, anytime so it remains compliant, even in the face of ever-changing regulations."
The RouteTracker2 features an upgraded Bluetooth stack to facilitate uninterrupted connectivity with a variety of certified handheld devices, including cell phones, smartphones and tablet computers by Blackberry, HTC, Motorola, Palm, Samsung, Sanyo and more. It also features a USB 2.0 port that enables driver and vehicle data to be downloaded from the RouteTracker2 to roadside inspection devices.
"Like our other industry-leading products, Xata Turnpike with the RouteTracker2 is designed to harness the power of road science to help our customers automate and simplify the collection, analysis and communication of information to improve safety and compliance, reduce operations costs and improve customer satisfaction," Warkentin says.