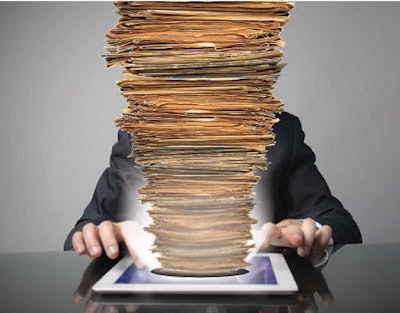 Carriers use technology to move documents at the speed of light and, in some cases, go completely paperless
If you use electronic data interchange, satellite tracking, Web portals or other technologies to communicate with customers, you may be wondering why they would require proof-of-delivery documents to pay invoices.
But if you use technology to manage documents efficiently, you may not care. Whereas you once had to wait for days to collect paper documents from drivers and invoice customers, it now is possible to bill electronically within minutes of delivery.
This dramatic change of events did not occur suddenly. For more than a decade, drivers could place trip envelopes into TripPak dropboxes at truckstops and other convenient locations for overnight delivery. Document imaging systems arrived later, followed by remote scanning and the ability to capture images on the same day as delivery.
Today, drivers are scanning documents at the delivery dock, and mobile technologies also have made it possible to eliminate paperwork altogether. Taking this next step may not be necessary, as revealed by how the latest applications of technology are being applied in many trucking operations.
Electronic LTL
Southeastern Freight Lines conducts soup-to-nuts EDI with many customers. The Columbia, S.C.-based less-than-truckload carrier receives electronic load tenders/pickup requests (204) and bills of lading (211). It also sends shipment status updates (214) and invoices (210) electronically.
SEFL currently receives electronic BOLs for about 18 percent of shipments. Not all come through EDI, however. Customers also can enter BOLs directly into the company's Website, www.sefl.com, where online orders have increased 10 percent this year. Excluding electronic BOLs, EDI transactions are involved in more than 80 percent of the shipments handled.
Receiving orders electronically makes it possible to go paperless, but the company prefers to have physical shipping documents at the point of pickup for several reasons. In some cases, paper documents are required to be carried with the load, such as for hazardous materials. Having a paper BOL also provides backup in the unlikely event that IT systems go down.
When making pickups, drivers attach and scan a PRO number to a paper BOL. Next, they enter information about the freight – shipper, destination, pieces, weight, etc. – into the company's onboard computing platform. This information is used for advance planning of linehaul and deliveries once drivers return to the terminal. SEFL scans documents received at pickup and uses the images to update its freight management systems.
Once freight arrives at the destination terminals, SEFL's computer systems produce delivery receipts. Paper shipping documents used to be important for dock operations and traveled with the linehaul movements, but now the company only produces delivery documents at the destination city.
When delivering, drivers enter details – such as the person who signed for the shipment – into the onboard computers. Delivery receipts then are scanned when drivers return to the terminal. Invoices are created centrally and sent out two days after delivery to allow time for rate adjustments.
One possible way for LTL carriers to improve document handling and billing processes would be to scan documents remotely or capture signatures electronically. For SEFL, in-cab scanning would not be cost-effective due to the volume of images to scan. SEFL also feels that capturing POD signatures electronically is not justified.
"If customers want to see a signature, they want to see a signature on the document," says Woody Lovelace, director of corporate planning. "In LTL, there is no point in capturing it on a device."
Other LTL carriers may disagree. Some already are using handheld platforms to extend image capture outside the office. Intermec's latest CN50 and CN4 computers have an option called Enhanced Mobile Document Imaging (eMDI) that can capture images at the time a driver steps onto the customer's dock to make a pickup or delivery.
To use eMDI, a driver simply points the CN50 or CN4 computer at a document. The computer's imager projects a laser guide onto the surface that helps the driver adjust the scanner's height to fit the borders of the document he wishes to capture. Drivers can index the image by selecting the document type from a dropdown menu. The image then is routed to the office through high-speed communications along with other delivery details – truck number, time, location, etc.
Intermec also has a tool called Verdex for "verify data extraction" that can be used to input shipping information in cases where a carrier may not have advance visibility of shipment information. LTL carriers often stop at customers to pick up freight without knowing the ship-to address in advance.
Using imaging technology, Verdex can extract the address and other shipping details from a machine-written form such as a BOL. The product has an embedded database in the CN50 or CN4 computer to verify the address. Once the shipment details are captured, the office can use the information to plan deliveries.
Options for truckload
For several years now, truckload carriers have used document management systems and scanning services to compress their billing cycles. The technology has evolved far beyond an electronic filing cabinet.
Interstate Distributor Co., a Tacoma, Wash.-based company with 1,749 power units, has made several upgrades to its document management technology. Since the company began using technology to manage documents in 2000, it has been able to reduce its billing department by half and go from 14 full-time employees in its imaging department to one.
At first, the company was scanning all documents in the office. Later, the company added remote scanning services from truckstops and company terminals.
In 2007, Interstate Distributor implemented McLeod Software's Document Power imaging system and, at a later date, the company's LoadMaster dispatch and operations software system. In October 2008, the fleet began using in-cab scanning on a new onboard computing platform. These technologies enabled the company to go from billing customers an average of 14 days after delivery to less than two days. "We went from collecting, scanning and indexing ourselves to having drivers scan," says Ethel Dungey, director of revenue accounting.
Drivers fill out a few bubble fields on their trip envelope – their name, load number, truck number and miles – and insert the documents into a scanner. They have the option of using truckstop scanning, scanners at company facilities or their in-cab computers.
When images arrive at the office, the integrated McLeod imaging system matches the driver's truck number with the load number. The system then uses McLeod's automatic forms recognition technology to identify and match each document type by customer or "bill to" code.
The forms recognition technology has eliminated the process of manually indexing about 78 percent of incoming documents.
The fleet also uses McLeod's Document Power to process driver payroll and receipts. Drivers automatically are reimbursed for tolls, weight tickets, lumper fees and pallets. The system's workflow tools validate the amounts from the images and set up payment if the amounts are within the approved range.
Through an alliance with Microdea, TMW Systems offers the TMW Synergize document management system for its portfolio of dispatch and fleet management products. TMW Synergize uses a browser-based document viewer and a simple-to-use workflow editor to create processes to manage the flow of information.
The majority of new customers now are using the software's forms recognition technology to automate the manual task of identifying and indexing documents.
Expedited billing
Companies that offer expedited transportation services must meet high customer service standards for more than just on-time delivery. Load One, an expedited hauler based in Taylor, Mich., is able to offer its customers all delivery documents almost immediately after delivery. Besides using this as a customer service tool, Load One has been able to accelerate its billing cycle and reduce labor costs.
Load One uses an integrated mobile communications and dispatch system that consists of Qualcomm MCP200 computers with in-cab scanning and the Sylectus dispatch software.
After making a delivery, drivers scan documents in the cab and input their trip number into the MCP200 display. After feeding paperwork through the scanner, the documents automatically are indexed to the load in the Sylectus dispatch system – but only if the trip number matches the driver. If it does not match, the driver is notified immediately through the MCP display.
Once delivery documents are scanned, images of the BOL or other POD documents are sent to the customer to notify them that the paperwork for the load is "checked in." The customer can click a hotlink to view the documents.
The integrated system has cut four days from Load One's billing cycle, and the efficiencies go beyond billing documents. Load One drivers are scanning roadside expenses, border-crossing documents, receipts, tickets and other items. In all, the company is saving between 35 and 45 man-hours a week in the office by pushing scanning and workflow to the truck.
"Drivers had very little pushback after the first week," says John Elliot, Load One president. "They quickly realized they no longer had to go out of their way to get documents to us. It really changed the labor they were doing."
Dedicated delivery
Fleets with dedicated operations may have the best opportunity to convert to a paperless delivery and billing system. One reason is because shippers realize that the faster they get information from a carrier, the quicker they can bill their own customers.
Cardinal Logistics, a Concord, N.C.-based third-party logistics and dedicated transportation provider, has a fleet of 1,500 company trucks and 250 owner-operators. The company developed a mobile application called Cardinal Activity Tracker (CAT) to capture and transmit signature and delivery data.
CAT, which was designed specifically for handheld devices, allows the person signing for the POD document to review the items and verify that any refused or exception deliveries are noted before signing.
As a dedicated carrier, Cardinal operates onsite at customer locations. By capturing delivery data through CAT, Cardinal Logistics has been able to streamline its weekly electronic billing process and give customers real-time delivery information. "CAT is more used for our customers to expedite their billing to their buyers," says Clay Holmes, chief information officer.
Fleets now can bill electronically within minutes of delivery.
Last year, the company released a Software-as-a-Service (SaaS) version of CAT that other carriers can use when doing contract work for Cardinal Logistics. The SaaS version extends the application from mobile computers to a broader range of mobile devices and features "dynamic workflow" to simplify training. The workflow feature presents drivers with specific instructions – based on customer profile – for capturing delivery details and exceptions.
The growing demand to capture delivery information and documents both inside and outside of the cab, including signature capture, has spurred enhancements to portable onboard computers.
Through a partnership with Affiliated Computer Services, PeopleNet offers in-cab scanning for its Tablet device that integrates with dispatch software systems. With this integration, when a driver scans a document, he is able to select the load that matches the documents from the user interface.
The Tablet platform allows fleets to set up their own forms for data capture with an option to insert a signature capture field. Information entered by drivers is transmitted to the office when the Tablet is placed back onto a docket mounted in the cab.
Mobile technologies can extend delivery and billing systems to the point of contact with customers. Capturing a truly electronic POD document is possible, but unless all customers are ready to comply with such a concept, going paperless will have to wait. In the meantime, if drivers are able to capture an image within minutes of a delivery, will it even matter?
Driver scan
In-cab, mobile options taking off, but other choices are available
Scanning systems that speed the capture and delivery of documents come in multiple varieties. Companies can have drivers scan documents at company facilities, at truckstops and in the cab. By all accounts, drivers respond better when offered a choice.
Currently, the fastest-growing method is in-cab scanning. A new wave of applications has emerged to allow drivers to scan documents using onboard computers, personal laptops and smartphones.
Affiliated Computer Services sees strong growth across all modes of its document management products, known collectively as TripPak Services. Those services – including overnight drop boxes, truckstop scanning, central scanning, e-mail, fax and FTP – are growing today at about 20 percent each. But growth for its most recent mobile scanning products – TripPak In-cab Scanning and TripPak Mobile – is vertical.
"We've never had products grow faster than we have these two," says Cassidy Smirnow, vice president of scanning and capture for ACS TripPak Services.
Taking a picture of a document with a smartphone can be prone to error, so ACS has created video training for its TripPak Mobile application. The service now comes with automated text reminders and video tutorials for drivers who may need help learning how to capture quality images.
Pegasus TransTech offers Transflo truckstop scanning at more than 800 locations where drivers hand their paperwork over the counter to a cashier. Drivers also can use Transflo Now, a free application that can be downloaded onto personal laptops and computers. The company also has a smartphone application for the iPhone 4.
"In any scenario, a fleet is not making any capital investment," says Bob Helms, chairman and chief executive officer of Pegasus TransTech. "It's a variable cost that is both consistent and cost-effective regardless of which way they allow drivers to scan."
Some technology companies now offer remote document scanning for little or no cost. Qualcomm offers in-cab scanning on its MCP200, MCP110 and MCP100 mobile computing platforms for no additional monthly fee. Fleets pay nothing to capture and transmit documents from the cab using Wi-Fi. The system can be set up to send documents only through Wi-Fi until a certain time period expires; if a Wi-Fi network is not available in that time period, the document is sent through terrestrial, at which point there is a small per-document charge.
Load One uses Qualcomm MCP200 computers with in-cab scanning. The 285-truck expedited hauler has the system set up to use Wi-Fi within the first four hours a driver scans a document, and about 50 percent of its documents are transmitted for free through Wi-Fi. "That's a lot better than I thought it would be," says John Elliott, president of the Taylor, Mich.-based fleet.
PCS Software offers three types of convenient low-cost options for scanning documents remotely into its Express suite of dispatch and fleet management software.
Mobile Xpress Trax is a GPS and driver communication app for the iPhone. When using the app, a driver can have a consignee sign an electronic delivery receipt to confirm that all of the listed commodities were received in good order, and the delivery receipt is sent automatically to the PCS document imaging system; the app also has an option to use the iPhone's camera to capture images of other proof-of-delivery documents. Mobile XpressTrax is $10 per driver per month with no per-page fees.
PCS Software also offers Driver Scan, an in-cab scanning system that requires a laptop and mobile scanner; the system uses an Internet connection to transfer the documents and has no per-page fees. Drivers also can fax documents to the corporate office through an 800 number for 10 cents per page.