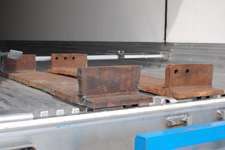 Two beams taken from the rubble of the 9/11 attacks are en route to a memorial site in Hattiesburg, Miss., on the campus of Southern Mississippi University, being carried by a Marten Transport truck and trailer outfitted for the haul. The carrier wrapped the trailer with a vinyl sign that recognizes Southern Miss' Sports Security program and tributes to Sept. 11.
Two-million accident-free mile driver Allen McCoury was selected to carry the beams from New York to Mississippi. The truck has made stops at JFK International Airport's Hanger 17, the Marten terminal in Mondovi, Wis., Atlanta's Turner Field for a Braves game and Randall-Reilly Publishing's headquarters in Tuscaloosa, Ala., before arriving in Hattiesburg for a Southern Miss football game, where the truck and beams will be on display. The beams will be mounted atop an on-campus memorial.
Southern Miss' NCS4 security program worked with Ingersoll Rand's security division to secure the beams from the New York Port Authority, and Marten handled the logistics.
At the Tuscaloosa stop, Randall-Reilly Chief Executive Officer Mike Reilly presented Marten with awards thanking them for their post-9/11 service and the other innovative work they do in the trucking industry.