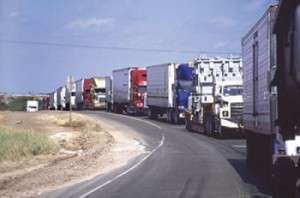 The Teamsters union and nonprofit group Public Citizen on Friday, Sept. 2, filed a lawsuit against the Obama administration seeking to block the latest U.S.-Mexico cross-border trucking program. The suit filed in the U.S. Court of Appeals for the Ninth Circuit in San Francisco against the U.S. Department of Transportation and the Federal Motor Carrier Safety Administration alleges that the new pilot program sets standards that aren't stringent enough for Mexican trucks and drivers.
U.S. Transportation Secretary Ray LaHood and Secretaría de Comunicaciones y Transportes Dionisio Arturo Pèrez-Jàcome Friscione on July 6 joined in Mexico City to sign agreements resolving the long-running dispute between the United States and Mexico over long-haul cross-border trucking services. Under the agreements, Mexican trucks will be required to comply with all Federal Motor Vehicle Safety Standards and must have electronic monitoring systems to track hours-of-service compliance. In addition, USDOT will review the complete driving record of each driver and require all drug testing samples to be analyzed in Department of Health and Human Services-certified laboratories located in the United States.
USDOT also will require Mexican drivers to undergo an assessment of their ability to understand the English language and U.S. traffic signs. The new agreement also ensures that Mexico will provide reciprocal authority for U.S. carriers to engage in cross-border long-haul operations into that country. The new program paves the way for Mexico to lift tariffs it imposed more than two years ago. The previous cross-border trucking program was terminated in March 2009.
Hoffa said in July that opening the border endangers America's highway safety, border security and warehouse and trucking jobs. Hoffa argued the program probably is illegal because it grants permanent operating authority to Mexican trucks after 18 months, while Congress has not granted DOT the legal authority to do so. He also questioned the legality of DOT's use of Highway Trust Fund dollars to pay for electronic onboard recorders for Mexican trucks.
"Opening the border to dangerous trucks at a time of high unemployment and rampant drug violence is a shameful abandonment of the DOT's duty to protect American citizens from harm and to spend American tax dollars responsibly," Hoffa said in July. "This so-called pilot program is a concession to multinational corporations that send jobs to Mexico. It erodes our national security. It endangers motorists. It ignores the rampant corruption among Mexican law enforcement. It lowers wages and robs jobs from hard-working American truck drivers and warehouse workers. It adds insult to injury to force U.S. taxpayers to pay for monitoring equipment on Mexican trucks so Mexican carriers can take away their jobs. The DOT shows more loyalty to the Mexican people than it does to Americans."
Hoffa said the Teamsters had urged the administration to bring a challenge against Mexico for imposing excessive tariffs on U.S. goods since the previous cross-border pilot program was shut down. "This pilot program doesn't even meet NAFTA's requirement that the Mexican government grant comparable authority to U.S. trucks,' he said. "Mexican trucks simply don't meet the same standards as U.S. trucks. Medical and physical standards for Mexican trucking firms are lower than for U.S. companies. And how can Mexico enforce highway safety laws when it can't even control drug cartels? The Bush-era pilot program was a failure that shouldn't be repeated."
FMCSA says the agency will review and address the filing.