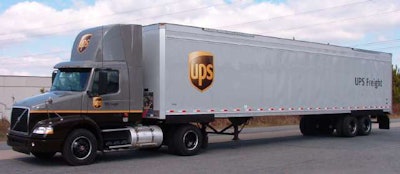 UPS on Thursday, Sept. 15 announced objectives for growing its revenue and profit over the next three to five years while continuing to invest in new technology and expanded facilities. Diluted earnings per share are expected to grow 10 to 15 percent from 2011 to 2016, the company's top executives told analysts and investors.
UPS Chief Financial Officer Kurt Kuehn also reaffirmed the 2011 guidance range for adjusted diluted earnings per share of $4.15 to $4.40 and announced an increase in expectations for stock repurchases of $700 million, to $2.7 billion for the full year.
Addressing analysts during the course of the Investor Conference, senior executives outlined expectations for performance of the U.S. Domestic, International and the Supply Chain segments. Additionally, the company announced major expansion plans for its European air hub in Cologne, Germany, increasing capacity by 65 percent.
"We are excited about where UPS is today and expectations for our future as we redefine the role of the global integrator," said Scott Davis, UPS chairman and chief executive officer. "Our long-term outlook remains positive despite recent economic uncertainty. UPS is well positioned to capture the opportunities presented by the megatrends shaping our industry."
The Investor Conference, built around the theme "Stronger Than Ever…Positioned for Growth," was held in Louisville, Ky., in order to display the results of a multiyear multibillion-dollar investment program. Over the past six years, UPS has:
• Completed a $1 billion expansion of its high-tech UPS Worldport air hub;
• Opened a new air freight hub and a Global Operations Center for the UPS Airlines;
• Began operations in a new Centennial ground hub;
• Doubled the size of its supply chain and logistics campus; and
• Assembled the "youngest" fleet of aircraft in the cargo industry.
In reviewing the company's five-year financial goals through 2016, Kuehn said that UPS anticipates:
• Consolidated revenue growth of 6 to 8 percent per year;
• Compound annual earnings per share growth of 10-to-15 percent;
• Return on invested capital of at least 25 percent by 2014;
• Free cash flow each year to exceed 100 percent of net income; and
• Expansion of distributions to shareowners in the form of dividends and stock repurchasing. Stock repurchases are expected to be a minimum of $8 billion from 2012 to 2014.