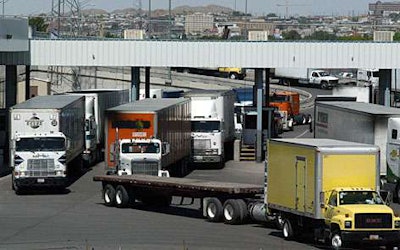 U.S. Rep. Peter DeFazio (D-Ore.) this week sent a letter to the Federal Motor Carrier Safety Administration demanding the agency address concerns about the safety of Mexican trucks on U.S. roads. The letter was in response to a report published by the Office of Inspector General on the cross-border trucking pilot program.
OIG's Aug. 19 audit of FMCSA's pilot program released earlier this month reported the agency has adequate border inspections but that more action is necessary to meet U.S. regulations and standards. Federal law requires OIG report to Congress on the program and that FMCSA address the office's concerns before Mexican trucks begin crossing the border.
OIG audited the program from April to July. U.S. and Mexican officials signed a memorandum of understanding July 6 to settle the long-haul cross–border trucking dispute between the two nations. Two days later, FMCSA published a Federal Register notice of intent to proceed with the program.
In June, FMCSA officials told OIG they will comply with the law for conducting Pre-Authority Safety Audits and compliance reviews, but had not developed plans and safeguards for conducting PASAs in Mexico. FMCSA's Aug. 10 response to the report noted action or plans to satisfy the audit's requirements before the end of September, when the report is expected to be sent to Congress.
DeFazio wrote that the agency has yet to transmit a report to Congress outlining the steps taken to address the shortfalls. "To date, FMSCA has not sent a report to Congress or otherwise communicated plans to address the issues identified by the IG, yet the agency is moving full speed ahead," DeFazio wrote.
On the same day the audit was made public, FMCSA published in the Federal Register the application of the first Mexican carrier to successfully complete a PASA; earlier this week, FMCSA published the name of another carrier. DeFazio wrote that according to FMCSA's regulations, listing a carrier in the Federal Register is a "preliminary grant of operating authority" (49 CFR 365.507).
"I fail to see how the agency is authorized to grant authority prior to meeting all statutory requirements," DeFazio wrote. "This further reinforces my longstanding concern that the administration is not launching a pilot program, but rather starting the full liberalization of cross-border trucking that will have significant impacts on safety, security and American jobs. Proceeding with the processing of Mexican carriers' applications on a separate track from meeting any requirements the agency believes apply to the pilot program confirms that FMCSA intends for this pilot program to casually terminate and morph into an open border. This flies in the face of the limitation enacted by Congress."