SPECIAL REPORT: THE FUTURE OF FREIGHT
PART I: FREIGHT PATTERNS
An expanded Panama Canal could shift some pacific freight to the east coast. carriers and rail lines are scrambling to meet opportunities. Are you missing the boat?
In August 2014, exactly 100 years after it was first completed, the Panama Canal will celebrate another milestone when a nine-year $5.25 billion expansion project is complete. The widening and deepening of existing channels and a third set of locks will accommodate containerships that deliver two to three times the freight of current vessels.
From a shipping-cost standpoint alone, doubling containership capacity from the current 4,000 20-foot equivalent unit (TEU) to 8,000 TEUs would make it possible for 17 percent more of the U.S. population to reap cost savings from using the Panama Canal rather than porting on the West Coast [Figure 2].
"Shippers get access to more of the population with bigger ships because of the economies of scale – costs per TEU go down, so you can go deeper into the interior United States through East Coast ports compared to West Coast ports," says Bob West, a principal strategist with WorleyParsons Group. The firm developed a model with Princeton Consultants to calculate the impacts of the expansion [Figure 2].
How much freight actually will be rerouted through the Panama Canal remains to be seen, but shippers and their customers are taking a closer look at the new alternatives to optimize supply chain networks.
"For those retailers and shippers who have a lot of volume and a heavy store base in eastern U.S. markets, the Panama Canal expansion has extra potential for them to cut costs from the supply chain," says Casey Chroust, executive vice president of the Retail Industry Leaders Association.
The biggest drawback to routing freight through the Panama Canal is time: It can take six to 10 days longer to reach the East Coast via containership from Asia compared to intermodal routes out of West Coast ports. Shipper decisions on which coast to route eastern U.S.-bound freight will depend largely on the types of goods being transported.
Heavy, less time-sensitive containers are ideal for East Coast ports, while time-sensitive and perishable goods containers likely will continue to be delivered to the West Coast.
"Products that allow for longer lead times, such as furniture, non-fashion items, appliances and equipment tend to play well into the [Panama Canal] scenario," says Chroust. "The Panama Canal will add cycle time, but if your cost-benefit analysis can save a lot of money to outweigh the delay and inventory-carrying costs, and your order lead time can accommodate the extra days, why not?"
Impact on trucking
A shift in container imports from one or two major West Coast ports to multiple ports along the Gulf Coast and East Coast likely would create more demand east of the Mississippi River for regional trucking routes.
"It adds an interesting opportunity of creating more truckload, maybe modestly taking some of the long haul out, but really augmenting that with a number of short-haul moves," says David Schrader, TransCore Freight Solutions' senior vice president of operations.
increasing capacity The Panama Canal expansion will allow for "post-Panamax" container ships that are 53 percent wider and 28 percent deeper than current ships that pass through the canal."]

Trucking operations serving East Coast ports with freight deficits also could stand to gain from the Panama Canal expansion. "Miami is one of the worst cities to get loaded out of throughout the year unless it's high season for produce," says Mark Montague, industry pricing analyst for TransCore. "If you put additional freight from Asian traffic into the port, it provides more balance in that market and is beneficial for truckers that otherwise deliver a load to the South Florida market and then have to wait two or three days for a return load."
Demand in the transcontinental long-haul truck segment might slip as freight bound for eastern U.S. markets is reconfigured through the Panama Canal, but the biggest loser may be the intermodal market, specifically the "land bridge" rail system linking the Los Angeles and Long Beach ports to the East Coast – a direct competitor of the Panama Canal.
Some trucking companies already are preparing for increased container volumes on the East Coast. Old Dominion Freight Line recently expanded its East Coast operations with a new container drayage facility in Baltimore, the third such operation it has opened this year. The Thomasville, N.C.-based less-than-truckload carrier expects the facility will provide access to key manufacturing areas in the Midwest as well as allow overnight delivery to one-third of the U.S. population.
"We do anticipate a shift in the business to East Coast ports when the Panama Canal expansion comes to reality, if you believe what you read," says Wayne Bersch, Old Dominion's director of container operations. "It is a consideration when expanding markets, but not the sole determining factor. But we do always want to be prepared."
Mondovi, Wis.-based Marten Transport sees real opportunity with the Panama Canal expansion. It plans to add 200 53-foot dry containers and establish a network from Chicago down the East Coast to Miami and points west.
"We're not intimidated by the wider canal," says Dave Meyer, Marten's director of maintenance. "It's going to force everyone to be more competitive. [The dry business] will be just another facet for us to go to our customers and say, 'We can not only do refrigeration – now we can handle your dry business as well.' "
Building for tomorrow
The Port of Virginia-Norfolk presently is the only East Coast port with 50-foot channel depths capable of receiving post-Panamax vessels. Other U.S. East Coast and Gulf Coast ports looking to capitalize on the Panama Canal expansion have projects under way or well along in the pipeline [Figure 3].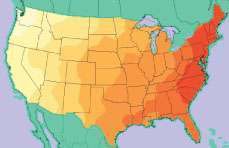 One of the biggest projects is at the Port of New York/New Jersey, where a $2.3 billion federal project is under way to deepen channels to 50 feet. The port authority also is spending more than $1 billion to raise the height of the Bayonne Bridge from 151 feet to 215 feet to allow larger containerships to access the port by 2016.
The Port of Baltimore has 50-foot-deep channels but no 50-foot-deep container berths. A $120 million project is under way that will deepen the berths to 50 feet by August 2012.
Equilibrium shift Presently, 46 percent of the U.S. population resides east of a "line of indifference" where routing 4,000-TEU containerships to either coast is cost-neutral. When the Panama Canal expansion is complete and 8,000-TEU containerships are able to pass through – freezing today's assumptions of canal tolls, rail rates, etc. – the line of indifference shifts further west, exposing 63 percent of the U.S. population to cost advantages of canal passage."]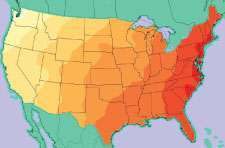 The Port of Miami also has authorized plans to deepen its channels from 42 feet to 50 feet but must acquire additional funding before construction can begin.
Infrastructure improvements on land also are vital to add capacity to load trucks and rail cars. "The biggest problem we see on the land side is the connection between the port and the main rail lines and the freeways – those connections are poor," says Aaron Ellis, communications director for the American Association of Port Authorities. "It is an unsustainable situation that needs to be improved if we as a country want to be a part of 21st century trade."
Ports with plans to accept post-Panamax containerships are making those infrastructure improvements a reality. The Port of Miami recently broke ground on a $49 million intermodal project to restore rail service to the Florida East Coast Rail Yard in Hialeah, a project aided by $22 million in Department of Transportation funding.
The Virginia Port Authority currently is building rail and highway infrastructure ahead of the inevitable uptick in freight volume from Asia; it is in line for funding to bring Route 460 from Tidewater, Va., to Interstate 95 up to interstate standards. "The general consensus is it needs to be done for a number of reasons, including the fact that this is a growing port and we're going to have to have a second east-to-west corridor to accommodate truck traffic," says Joe Harris, VPA spokesman. The port also is reconfiguring its truck interchange to reduce turn times at its Norfolk terminal.
But even U.S. East Coast ports that don't meet the post-Panamax container ship requirements stand to benefit from the Panama Canal expansion. Trans-shipping – a process where goods are routed through the Panama Canal and offloaded at Caribbean ports, then loaded onto smaller vessels bound for Gulf Coast and East Coast ports – offers new freight-routing possibilities. "Not every port needs to be able to handle post-Panamax vessels to benefit from the Panama Canal expansion," says Ellis.
Regardless of how many post-Panamax containerships actually call on East Coast ports, the trend in trans-shipping in Panama and the Caribbean is sure to grow.
"If you look at the economics of large containerships, they only make money when they are sailing, not while they're in port," West says. "They will want to go between two major hubs – Shanghai and Freeport (Bahamas), for example – then offload to smaller ships. On the backhaul, Freeport would be a collection point for freight going back to China."
Eastern rail lines add capacity
Like some East Coast and Gulf Coast ports, railroad companies also are expanding their networks ahead of the Panama Canal expansion to take advantage of the post-Panamax containerships arriving from Asia. The battleground for this multibillion-dollar buildout? America's breadbasket: the Midwest.
East Coast, Gulf Coast ports along the Coast are preparing now to handle the post-Panamax containerships that soon will be coming through the Panama Canal. Presently, the Port of Norfolk is the only East Coast port capable of receiving post-Panamax containerships."]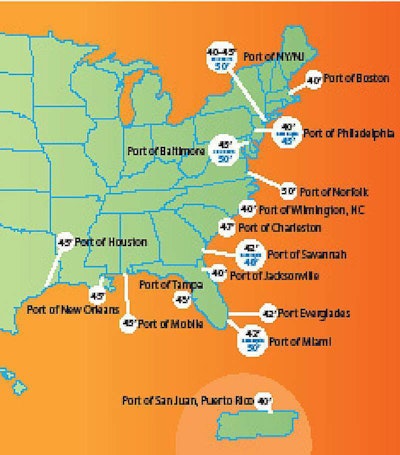 Last September, Norfolk Southern Railway opened its Heartland Corridor, a double-stack container intermodal service that connects Virginia's Tidewater port region with Chicago by way of Columbus, Ohio. In addition to increasing capacity, the $311 million project funded by a public-private partnership reduces the length of haul from the port to Chicago by 200 miles and shaves a day and a half off the transit time.
In May 2008, CSX began construction on its National Gateway, an $850 million public-private infrastructure initiative to link three Mid-Atlantic ports – Wilmington, N.C., Norfolk and Baltimore – to the Midwest with double-stack containers. Construction, which includes 63 clearance projects to achieve the necessary 20 feet and 2 inches of height, is slated to wrap up by 2015.
The full effect of the Panama Canal expansion on the trucking industry won't be realized until years after the project is completed. But as players from all modes of transportation take steps to capitalize, it's clear that the expanded canal will bring significant shifts in how freight is moved across the country.
Growth of regionalization, intermodal shortens length of haul
While the full impact of the Panama Canal expansion on the U.S. long-haul trucking industry won't be realized until the second half of this decade, it likely will accelerate the recent trend toward regional freight movement.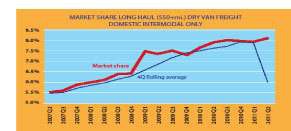 One example is USA Truck, which in 2009 overhauled its entire freight distribution network with its "Vision for Economic Value Added" strategic plan. The Van Buren, Ark.-based company broke the United States down into 200 markets, analyzed the freight volume in each and determined the markets in which it would deploy its assets and in which lanes it would run outbound to maximize operating profits.
"We now have a 21st-century freight network to support our shippers' 21st-century supply chains," says Cliff Beckham, president and chief executive officer. "As length of haul declines, our velocity – loads per truck per week – has ramped up."
USA Truck is hardly alone. According to the American Trucking Associations, truckload carrier average length of haul has dropped from 629 miles to 479 miles since 2000.
In 2008, Schneider National also made a concerted effort to switch some of its assets to regional operations in response to customer demand. The Green Bay, Wis.-based company now has regional operations in 48 states.
"As customers continue to explore ways to improve their supply chains, they're finding that regional service is a smart solution for the total length of haul," says Marc Rogers, senior vice president and general manager of Schneider Van Truckload. "There will always be a need for long-haul trucking, but as that regional environment continues to grow, we grow with it."
A convergence of factors has given rise to shorter haul lengths, including higher fuel prices, regional warehousing and the sharp rise in imported offshore goods that begin their U.S. voyage on rail.
"The trucking piece is between the distribution center and the final customer," says Mark Montague, industry pricing analyst for TransCore Freight Solutions. "That tends to be a 500-mile-radius length of haul from a distribution center."
"There has been a dramatic change in the last five years on overall length of haul throughout the truckload sector," says Jim Hebe, executive vice president of sales and marketing for Navistar. "We've seen a shift from a focus and concentration on team operations running long lengths of haul and high miles per truck per year to a preponderance of trucks running an average length of haul less than 600 miles."
Compliance Safety Accountability, potential changes to hours-of-service regulations and a growing driver shortage threaten to further constrain already-tight truckload capacity, creating opportunities for intermodal to eat away at market share, especially in the long-haul segment. High fuel prices also have spurred cooperation between large carriers and rail companies, as shippers increasingly are willing to accept longer delivery times to save costs.
"It's well understood that the more expensive the price of diesel, the more it makes sense from a cost perspective to switch from over-the-road to intermodal," says Donald Broughton, managing director of Avondale Partners.
In 2009, Celadon did $2 million in intermodal business. This year, the Indianapolis-based company expects intermodal operations to top $20 million. In August 2010, USA Truck signed an agreement with BNSF to move its trailer-on-flat-car operations. "The reality is that most of us are going to have to provide additional capacity to our shippers through alternative modes and alternative venues," says Beckham.
Despite the recent growth in the intermodal market, a confined infrastructure will limit capacity, cutting into rail's ability to penetrate much of what remains the long-haul trucking market. "Statistics urge you to think real hard before accepting the notion that we're going to lose a lot of business to railroads," says Noel Perry, managing director and senior consultant for FTR Associates.