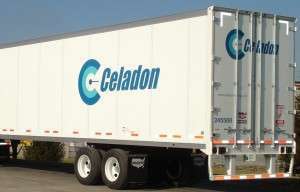 Celadon Group Inc. on Wednesday, Oct. 26, said its board of directors was "quite disappointed" that the board of USA Truck Inc. declined a meeting to discuss a merger following Celadon's purchase of 6.3 percent of USA Truck's common stock. Celadon said that its board has "decided to consider alternative actions" but did not provide any specifics.
Indianapolis-based Celadon purchased its stake in USA Truck on Oct. 11 and asked for a meeting. Van Buren, Ark.-based USA Truck had no immediate comment following Celadon's request, and issued its response to decline a meeting Oct. 21 when it released its third-quarter financial results.
Celadon on Wednesday reported its own financial and operating results for the three months ended Sept. 30, the first fiscal quarter of the company's fiscal year ending June 30, 2012. Revenue for the quarter increased 0.8 percent to $141.5 million in the 2011 quarter from $140.3 million in the 2010 quarter, while net income increased 22.7 percent to $5.4 million from $4.4 million.
"Cost controls and improved freight yields continued to positively impact results," said Steve Russell, Celadon chairman and chief executive officer. "We have continued to improve our operating efficiency, which has resulted in the reduction of over 1,200 trailers in our quarter end numbers, while having on-boarded over 2,000 new trailers with aerodynamic side skirts within the past 12 months."
Russell said seated count declined about six percent, related to the driver shortage. "The improvements and enhancements to our operating model, even with the lower seated count and decreased truck utilization, resulted in a reduction in our operating ratio net of fuel to 92.1, or 110 basis points, compared with the 93.2 level achieved in the September 2010 quarter," he said.