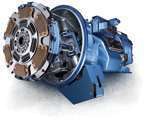 Western Star Truck Sales Inc. on Wednesday, Oct. 26, announced the availability of the Eaton UltraShift Plus automated transmission for all Detroit Diesel DD13-equipped Western Star 4900 day-cab configuration truck models. The UltraShift Plus – available in six transmission models – is designed to suit the needs of both on-highway and vocational applications.
Featuring a fully automated design, the UltraShift Plus uses an electronic clutch actuator designed to engage and disengage the clutch, facilitating faster shifting, smoother engagement and improved maneuverability. The intelligent shift selection software employs grade sensing, weight computation and driver throttle commands to make shift decisions. A Hill Start Aid help prevent rollback on steep grades, while maximum engine braking adds traction without a retarder.
"The Eaton UltraShift Plus not only increases efficiency and performance, but also allows our customers the ability to tailor their transmission to meet the unique needs of any on-highway or vocational application," sayws Ann Demitruk, director of marketing for Western Star.
Eaton UltraShift Plus now is available to order for all DD13-equipped Western Star 4900 day-cab trucks and will be available for DD13 and Cummins ISL-equipped Western Star 4700 trucks in January 2012.