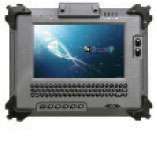 Rugged portable tablet
Glacier's T507K 7-inch rugged portable tablet is suited for remote work applications that need a smaller display. The sunlight-readable touchscreen has been drop-tested 6 feet to concrete. Data collection features include a camera, RFID and 2D barcode scanner, while communication is provided by an 802.11 b/g/n and GOBI 3000 3G module. The T507K is powered by the Intel Atom processor and comes standard with Windows XP or Windows 7. Mobility is provided via grip-and-go handles and both desktop and vehicle cradles.
➡ Glacier Compute
Visit www.ccjdigital.com/info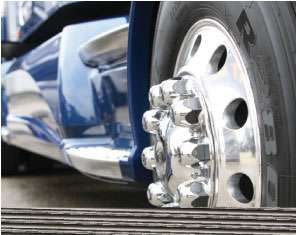 Bright wheels
Alcoa's Dura-Bright wheels are designed to provide no-polish easy-maintenance bright, shiny wheels that stay that way. The Dura-Bright production process penetrates the aluminum, helping wheels keep their shine after hundreds of washes and thousands of miles without polishing. The wheels are made to rinse easily with mild soap and water, eliminating the need for additional cleaning products, which helps reduce maintenance costs while protecting the environment.
➡ Alcoa
Visit www.ccjdigital.com/info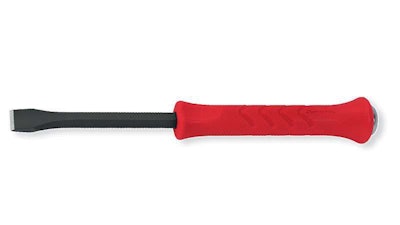 Heavy-duty chisel
Snap-on's heavy duty demolition chisel (SPDC18R) offers a quicker, more convenient alternative to air hammers and is suited for general automotive use as well as salvage work, breaking apart rims, separating frame rails, removing fasteners and rivets or separating exhaust components and hangers. The tool features an ergonomic crown handle for added comfort and protection and an alloy steel chisel for added strength and durability. The chisel's high-impact composite material offers added cold and hot weather resistance and bar retention, while its large striker cap adds to its impact surface.
➡ Snap-on
Visit www.ccjdigital.com/info

Handheld LED work lights
Del City's handheld LED work lights are designed to illuminate dark work areas. The LED Pocket Light Stick has six directional floodlight-style LEDs that produce 36 lumens that can last up to 11 hours, and its water-resistant housing features a molded plastic clip that can be attached to a pocket. The LED Rechargeable Work Light is made of rugged ABS material and has 30 wide-angle floodlight-style LEDs that produce 140 lumens; other features include a NiMh battery pack that can run up to 10 hours per charge, a low-battery indicator, a polycarbonate high-strength swivel hook and a 120V charger.
➡ Del City
Visit www.ccjdigital.com/info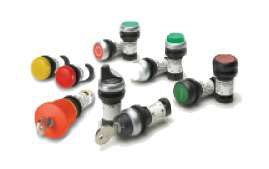 Compact pushbuttons
Eaton's C22 compact pilot devices feature an all-in-one design that includes the operator and contact blocks in one housing to provide a broad selection of operators, functionality and features. The C22 features monoblock construction with built-in contacts and is engineered for easy push-through-and-tighten installation. The line includes LED-illuminated pushbuttons and pilot lights, twist-to-release emergency stops, selector switches and both flat and extended nonilluminated pushbuttons.
➡ Eaton
Visit www.ccjdigital.com/info

Coolant system leak repair
Bar's Leaks Liquid Copper for cooling systems is formulated to be a one-step copper block seal in any water-cooled vehicle. To use, pour it into the radiator; because it uses an advanced antifreeze-compatible sodium silicate liquid glass formula, no draining of coolant is required. It works with all types and brands of antifreeze and will not harm the cooling system when installed properly.
➡ Bar's Leaks
Visit www.ccjdigital.com/info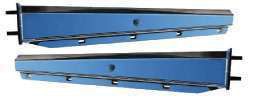 Spring-loaded mudflap hangers
Betts Spring's Smart A17 Technology spring-loaded mudflap hangers are designed for lighter weight and corrosion resistance, resulting in extended lifecycles. The design incorporates an open wound coil spring with added rate recovery and yield performance.
➡ Betts Spring Co.
Visit www.ccjdigital.com/info
Brake lining for transit applications
Haldex developed its Transitmax brake lining for added performance, quiet operation and extended service life in demanding transit and coach applications. The friction material, certified for both 26,000- and 29,000-pound GAWR applications, is made from an organic fiber-based formulation for added thermal stability and enhanced drum life and is designed for minimal growth and swell, making it suitable in combinations with automatic brake adjusters and ABS systems. Transitmax is available in most FMSI numbers as loose lining, new lined shoes or remanufactured lined shoes.
➡ Haldex
Visit www.ccjdigital.com/info
Platform truck
Hamilton Caster's model PB1108 2,000-pound-class platform truck has a sturdy all-steel frame and a kiln-dried hardwood deck built to muffle noise and protect the load. The running gear is designed to improve the truck's maneuverability while also reducing operator fatigue.
➡ Hamilton Caster
Visit www.ccjdigital.com/info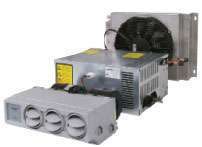 Battery-powered A/C system
Red Dot's updated Sleeping Well Arctic 2000 Plus battery-powered auxiliary air-conditioning system is sold as a complete aftermarket installation kit designed to fit almost any sleeper.
Improvements to the all-electric A/C system include an all-12V system with twin
compressors, upgraded system diagnostics and a wireless remote control with an
"Option" button to reduce compressor speed and extend system operating time
and battery life. Maximum power consumption is 55 amps per hour, a 26 percent
reduction compared to the previous version; a shorepower option uses 120V AC. The Arctic 2000 Plus provides up to 6,150 Btus per hour of cooling and can maintain a comfortable temperature for 10 to 12 hours in typical use.
➡ Red Dot Corp.
Visit www.ccjdigital.com/info
Filter, radiator cleaner
IPA's Air Comb Filter and Radiator Cleaner is suited for cleaning cylindrical-style air filters, radiators, condensers and other hard-to-reach applications with focused high-pressure output and a long-reach 90-degree multiport airflow. The cleaner is available in 12-, 24-, 36- and 48-inch lengths.
➡ IPA Tools
Visit www.ccjdigital.com/info
High-speed lifts
Hunter's Hi-Speed RX Lifts are designed to cut raise and lowering times when servicing light vehicles,
saving service time and increasing shop efficiency. The lifts feature a two-stage hydraulic pump that controls the fast rise and descent and also automatically slows the lift during the last several inches of descent to facilitate a soft landing. The high-speed capability is available on both the RX10 (10,000-pound capacity) and RX12 (12,000-pound capacity) lifts packaged with Hunter's Inflation Station feature, an integrated tire inflation system designed to set tire pressure for all four wheels simultaneously.
➡ Hunter
Visit www.ccjdigital.com/info

Reefer dome lamp
Grote designed its 61291 LED whitelight recessed-mount dome lamp as an alternative to fluorescent lamps in refrigerated environments to provide consistent operating performance and lighting quality in subzero temperatures. The impact-resistant lamp has a 50,000-hour service rating and is constructed of a robust one-piece powder-coated aluminum housing with a removable polycarbonate lens. It has a built-in thermal protection device and operates at temperatures ranging from -40 to 122 degrees Fahrenheit. The lamp's six high-output diodes generate about 1,000 lumens of light output, comparable to that of fluorescent lamps, but draw only about 63 percent of the amperage. The 61291 features a protected solid-state circuit board and, unlike a fluorescent lamp, has no ballast or bulb to fail.
➡ Grote Industries
Visit www.ccjdigital.com/info
Split systems for shuttles, buses
Thermo King's split system solutions for shuttle and bus owners are built to offer a lower lifecycle cost and provide a more consistently comfortable environment throughout the vehicle. The redesigned environmentally aware solutions include the SA-600 skirt-mounted condenser and the rooftop application Slim Line Condenser, both available with the interior-mounted SA-600 evaporator.
➡ Thermo King
Visit www.ccjdigital.com/info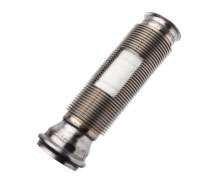 Internally insulated bellows
Tru-Flex's internally insulated zero-leak torsional and nontorsional bellows include a no-leak decoupler that accommodates all four motions, including torsion, and are suited for engine layouts that have exhaust outlets in parallel with the crankshaft, or that demonstrate torsional outputs that create more than 2 percent displacement at the exhaust outlet. The bellows reduce heat loss by up to 88 percent, while the internal insulation's dampening effect helps provide a 70 percent noise reduction over noninsulated systems while also reducing static loss, helping to increase vehicle engine performance and overall fuel efficiency.
➡ Tru-Flex Metal Hose
Visit www.ccjdigital.com/info
Truck heating kit
Espar's E-Delivery Truck Kit comes with the company's 17,000-Btu Hydronic 5 fuel-operated engine pre-heater in an aluminum-covered box, a set-and-forget programmable timer and a multifunction dash-mounted switch to allow for on-demand heat. The kit is suited for applications involving multiple daily deliveries such as grocery and beverage fleets.
➡ Espar Heating Systems
Visit www.ccjdigital.com/info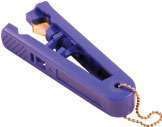 Cutting tools for nylon air tubing
Phillips' nylon air tubing cutting tools are available for economy, standard and heavy-duty use. The economy pocket cutter (part number 12-90003) is compact and suited for quick-repair emergencies. Part number 12-90002, a standard shop cutter, can cut up to ½-inch diameter tubing. For production-line and heavy-duty use, part number 12-90004 has a shortened nose for greater clearance and replaceable blades. All three cutting tools have preset tubing guides.
➡ Phillips
Visit www.ccjdigital.com/info
Vocational trailer suspension series
Meritor now offers the MTA25 (25,000-pound capacity) and MTA30 (30,000-pound capacity) trailing-arm air ride trailer suspension systems designed for vocational markets such as platform, tanker, bottom-dump, grain, logging, transfer, side-dump and end-dump trailers. The two latest models join the MTA23 (23,000-pound capacity). All three suspensions are available with a durable, reliable quick-response lift kit.
➡ Meritor Inc.
Visit www.ccjdigital.com/info
Environmentally friendly oil
Valvoline has added two NextGen motor oil products – Premium Blue SAE 15W-40 and All Fleet Plus SAE 15W-40 – for commercial and industrial customers. The oils include the company's additives and are made from 50 percent recycled oil and refined with the same processes as crude oil while containing fewer contaminants and more usable molecules.
➡ Valvoline
Visit www.ccjdigital.com/info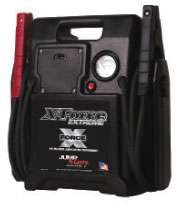 High-capacity jump starter
Clore's Model No. JNCXFE high-capacity 12V jump starter from Jump-N-Carry delivers 1,540 crank assist amps and is suited for a wide range of jump-starting applications. The jump starter includes Dual X-Force batteries that feature pure lead construction to help deliver extreme starting power, long shelf life, faster and easier recharging and reduced sulfation buildup between recharges. The JNCXFE features 68-inch cable leads made of No. 2 AWG welding cable to help reach the starting points of larger vehicles. Industrial-grade hot jaw clamps help penetrate corroded battery terminals to provide maximum power transfer. A built-in charger is designed to provide automatic operation, allowing the unit to be kept in an always-ready state.
➡ Clore Automotive
Visit www.ccjdigital.com/info
PTO series
Parker Chelsea's 870 power take-off series features a compact housing that helps eliminate clearance issues, while two assembly arrangements help maximize installation possibilities. High-capacity bearings and revised gear designs help provide torque ratings up to 670 lb.-ft. with no need to derate the PTO for continuous applications. The 870 series, which has a 10-bolt mounting pattern, features six shift options and eight internal gear ratios that provide a wide variety of speeds to suit many applications. Electronic overspeed control also is available to help protect driven equipment.
➡ Parker Chelsea
Visit www.ccjdigital.com/info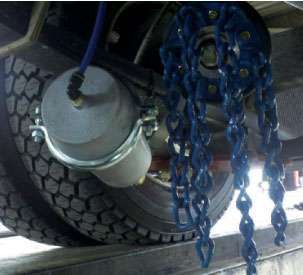 Tire chain kit for TerraStar
Onspot has released an automatic tire chain kit for Navistar's International
TerraStar equipped with an air suspension. A kit also is available for the TerraStar with a spring suspension.
➡ Onspot Automatic Tire Chains
Visit www.ccjdigital.com/info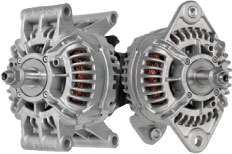 Heavy-duty alternators
Bosch's heavy-duty Long Haul Extreme alternators are engineered to provide superior power output on the road and at idle with advanced electronics and a design to facilitate trouble-free operation, increased battery life and added fuel savings. The alternators (AL9920LL, AL9921LL and AL9922LL) come in 170- and 200-amp versions, producing respectively 170 and 200 amps at 6,000 alternator rpm operating output and 120 and 122 amps at 2,000 alternator rpm. The Long Haul's high charge rate at lower engine rpm helps prolong battery life by reducing deep cycling, while dual internal cooling fans optimized for maximum airflow help maintain an even temperature under all operating conditions. The alternator's bearing technology and a brush compound help facilitate longer life.
➡ Bosch
Visit www.ccjdigital.com/info
Three-dimensional mudflap
Spraydown Aero Guard, a three-dimensional mudflap, features vertical aero vanes designed to redirect spray down through the pockets, smoothing airflow and reducing drag, resulting in fuel savings. Safety is enhanced because more spray is directed back to the road and away from the driver's view. The mudflaps are available in 24-, 27- and 30-inch lengths in both straight and angled-down configurations and are designed for easy installation.
➡ Spraydown USA
Visit www.ccjdigital.com/info