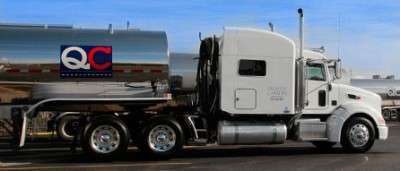 Quality Distribution Inc., a chemical bulk tank truck and intermodal tank container and depot service provider, on Wednesday, Nov. 2, reported net income of $6.2 million for the third quarter ended Sept. 30 compared to net income of $0.4 million in the third quarter ended September 30, 2010.
The Tampa, Fla.-based company said the significant improvement in earnings was driven by a 25.2 percent increase in operating income resulting from increased energy market revenue, enhanced profitability at Boasso, reduced maintenance and depreciation expenses from the fleet rationalization program and lower insurance costs. Additionally, interest expense declined 18.8 percent due to overall debt reduction and significant redemptions of high-cost 11.75 percent notes.
"Revenues associated with our energy market logistics contract ramped up faster than expected during the quarter, which more than offset the anticipated sales volume decrease in our bulk chemical business," said Gary Enzor, chief executive officer. "We are excited about the success we have seen in the Marcellus Shale and continue to explore opportunities in other shale regions. We expect continued top-line expansion in the energy market for the remainder of 2011 and look to this market as a key growth engine for the future."
Total revenue was $199.3 million, an increase of 9.5 percent, driven primarily by the company's entry into the frac shale energy market. Energy market revenues were $18.6 million, principally reflecting the company's first full quarter of operating under the recently awarded logistics contract in the Marcellus Shale. Revenues from the chemical logistics business declined $11.4 million primarily due to reduced volumes.
The company said its initiative to implement electronic onboard recorders continued to impact driver turnover adversely during the third quarter, which has constrained revenue within the chemical logistics business, but that it remains on track to fully implement EOBRs within its chemical logistics fleet by yearend; however, elevated driver turnover is expected to impact fourth-quarter revenues adversely.
"The now-completed acquisition of Greensville provides a strong new market for Boasso's ISO tank container and depot services business, and our frac shale energy initiative has generated strong revenues," Enzor said. "With the EOBR implementation nearly complete, we are looking forward to getting our core chemical logistics business back on track, and we are well positioned to capitalize on organic and external growth opportunities as we enter 2012."