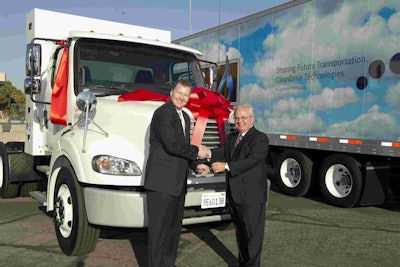 Daimler Trucks North America on Monday, Nov. 7, held a ribbon-cutting ceremony to commemorate the 1,000th Freightliner-brand low-emissions natural gas truck manufactured in North America and to be deployed in Southern California. DTNA customer Ryder Systems Inc. accepted the vehicle, with plans to deploy the truck in Southern California, providing air quality benefits to the region.
The Freightliner M2 112 compressed natural gas (CNG) truck is powered by a Cummins Westport ISL G 8.9L engine and was manufactured at DTNA's plant in Mt. Holly, N.C. "With our 1,000th natural gas truck, DTNA solidifies its position as the market leader in alternative fuel options," says Mark Lampert, DTNA senior vice president of sales and marketing. "We are proud to be pacing the industry in natural gas and sustainable green technologies."
Attending the ceremony at Angel Stadium in Anaheim, Calif., were Lampert; California Assemblyman Allan Mansoor; South Coast Air Quality Management District Board Member and Mayor of Santa Ana Miguel Pulido; Scott Perry, Ryder vice president of vehicle supply management; and Gordon Exel, vice president of sales for Cummins Westport.
"DTNA's 1,000th natural gas truck is an important milestone and a strong example of our dedication to manufacturing high-performance low-emission vehicles that help our customers save on fuel costs," says Bob Carrick, DTNA vocational sales manager of natural gas Freightliner trucks. "These vehicles not only save our customers money, they also provide air quality benefits in the communities where they are deployed."
Perry says Ryder is leveraging its ability to influence and reach a broad, diverse customer base to improve access to alternative fuels such as natural gas. "Working closely with industry partners like Freightliner enables us to continue to offer our customers new vehicle technologies that are reliable, cost-effective and that help them realize their sustainable transportation goals," he says.