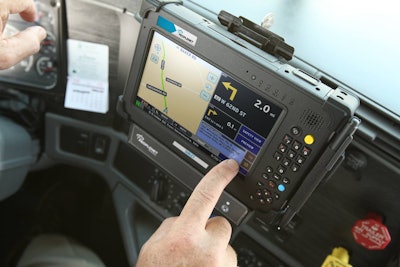 PeopleNet, a provider of integrated onboard computing and mobile communications systems, announced enhancements for its In-Cab Navigation, powered by Maptuit NaviGo, designed to make it easier for both drivers and back-office personnel to use. "These enhancements are based on driver feedback and fleet requests, reflecting the pursuit of continuous improvement to meet user needs shared by Maptuit and PeopleNet," says Brian McLaughlin, PeopleNet chief operating officer. "Efficiency is job number one, and the new route compliance and map details provide valuable information that help drivers save time by pinpointing exact arrival locations that meet customer guidelines and more, and fleets save money by reducing out-of-route miles."
Yard Shaper is a new feature that helps the back office make routing decisions for directing drivers to the correct entrance and delivery spot. It outlines the shape of an arrival point within a large area and identifies the position within the location. Drivers know exactly where to enter the delivery area, where to park and where to exit. Custom notes associated with a yard or customer location may be available to the driver either in the form of a graphical or spoken command; as the driver approaches a location, NaviGo can direct the driver verbally to the appropriate loading dock.
PeopleNet and Maptuit also have built additional back-office integration designed to allow fleets to help identify out-of-route mileage by matching actual driven location data with prescribed routes, thereby flagging cases of noncompliant driving. By providing tools to analyze these situations, fleets can identify route compliance issues by vehicle and driver, and make corrections to reduce costly extra driven miles, allowing fleets to drive fewer miles, reduce accident risks and save money and time.
According to the companies, new usability improvements based on driver feedback also have been incorporated into version 3.3: preview improvements that provide drivers a more complete view of their routes, a direction arrow, decision points, stop details, estimated drive time between stops, road names with numbers and more. The "Route Preview" function enables a route sent through PeopleNet's integrated Automated Workflow to be displayed on the device along with the route stops and driving directions for each. The new "Recent Searches" button provides the ability to save time routing to regular stops.
Drivers now can make changes to the vehicle type, hazmat class and route preference, such as time vs. mileage-sensitive. They also can provide feedback more easily that helps keep the routing software up to date. Pressing the new "Mark-It" button marks the time, date and approximate location where it was pressed. After completing their route, drivers can select the "Feedback" button and one of the marked locations to enter feedback, or they can select "General Feedback" to provide generic product or route feedback.
Available on the PeopleNet Blu and PeopleNet Tablet onboard computing platforms, PeopleNet In-Cab Navigation, powered by Maptuit NaviGo, is designed to calculate the least costly door-to-door route while delivering drivers the most up-to-date directions to any destination and providing live moving maps. In addition to helping to reduce out-of-route miles, it also helps drivers avoid tolls and improve safety by providing routes with only truck-approved roads.