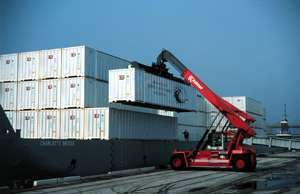 Trailer Bridge Inc. on Wednesday, Nov. 16, announced that it had filed a voluntary petition under Chapter 11 of the U.S. Bankruptcy Code. The filing in the U.S. Bankruptcy Court for the Middle District of Florida came one day after Trailer Bridge's $82.5 million 9.25 percent senior secured notes became due.
The Jacksonville, Fla.-based company said the filing "is the quickest and most efficient way to restructure its balance sheet and ensure the long-term strength of its operations." Trailer Bridge said it hopes to complete its reorganization by the end of the first quarter of 2012 and will work closely with its existing debt holders to emerge quickly from Chapter 11.
Subject to bankruptcy court approval and with the help of its financial adviser Global Hunter Securities, Trailer Bridge has an agreement for $15 million in debtor-in-possession to allow the company to meet its post-filing obligations, maintain its sailing schedule and level of service and finance the costs associated with the Chapter 11 process.
"While not an easy decision, we are confident that restructuring our business and capital structure will allow us to continue to provide reliable, uninterrupted service to our customers," said William Gotimer Jr. and Mark Tanner, the company's co-chief executive officers, via a joint statement. "In recent weeks, we have seen significant volume increases in our southbound freight service and increased revenue."
Gotimer and Tanner both said Trailer Bridge expects "to meet the needs of our customers, our commitments to employees and our obligations to suppliers during this restructuring, and greatly appreciate their loyal support during this process. This plan, if successfully implemented, will result in a revitalized company with a vastly improved and deleveraged balance sheet."