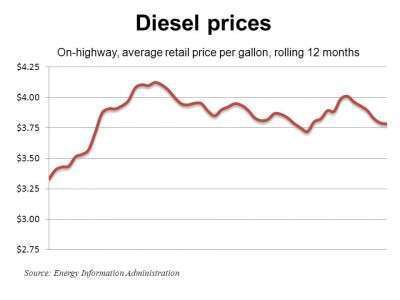 The U.S. average diesel price declined for the sixth consecutive week after surpassing $4 a gallon, declining 0.8 cents to $3.783 for the week ending Monday, Jan. 2, according to the latest figures from the U.S. Department of Energy's Energy Information Administration. The latest price is 45.2 cents higher than the same week last year.
Regions tracked by DOE saw a mix of falling and climbing prices. The shrinkages were led by a 2.5-cent decline in the Rocky Mountains, where prices fell to $3.836. The smallest decrease was 0.6 cent on the West Coast (minus California), where the average price was $3.90. The nation's cheapest diesel was found in the Midwest region, where prices fell 2.3 cents to $3.683.
The increases were led by a 0.7-cent climb in both California and the Central Atlantic region, where prices rose to $4.046 and $3.932, respectively; California's price was the nation's highest. The smallest increase was 0.1 cent on both the Gulf Coast and West Coast (including California), where the average prices were $3.709 and $3.979, respectively.
DOE's report was delayed one day because of the New Year's Day holiday. Complete diesel price information is available on EIA's Website.