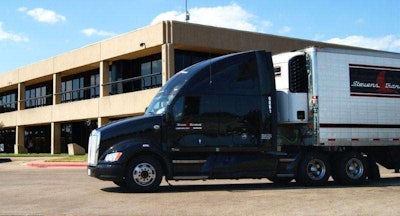 Stevens Transport, a Dallas-based refrigerated carrier, announced that it has selected Qualcomm's Mobile Computing Platform 200 to integrate across its fleet of about 2,000 tractors to enhance its customer service while increasing efficiency and productivity.
"With the adoption of Qualcomm's MCP200 and many of our key applications, Stevens Transport will be able to better optimize its fleet operations by leveraging important analytics and critical business information to increase productivity, run more loaded miles and generate more revenue, all while providing its customers with the best possible shipping experience," says Norm Ellis, vice president of sales, services,and marketing at Qualcomm Enterprise Services. "We are committed to providing our customers with smooth, comprehensively managed operations that ultimately ensure success for their own customers."
Stevens Transport says it sought to significantly improve fleet productivity and operational efficiency. As a long-time customer familiar with Qualcomm's fleet management platforms and applications, the company decided the critical tools available with the MCP200 would aid its fleet in achieving its objectives.
"When it came to choosing the right solution for our business, Qualcomm's MCP200 – and its industry-leading applications – was the proper technology investment for our business model and will play a critical role in our ongoing success by creating access to the best solutions available for our fleets today," says Scott Mellman, director of logistics at Stevens Transport. "We take pride in selecting first-class equipment to keep our drivers safe and comfortable – that's why we've relied on Qualcomm's OmniTracs and MCP100 fleet management offerings for years. With the transition to the MCP200, we're looking forward to further advancing our fleet capabilities with business-critical information at our fingertips to better understand how our business is running."