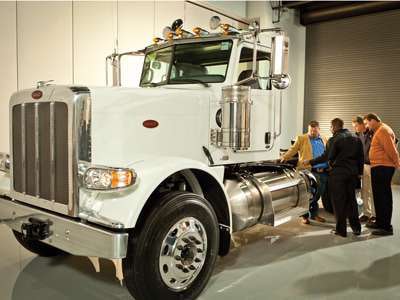 Rush Enterprises announced that representatives from its Rush Truck Centers in Austin and Waco, Texas, participated in a review of the first of 60 Peterbilt Model 388 LNG (liquefied natural gas) trucks that will be delivered to Green Energy Oilfield Services, a portfolio company of Lone Star Investment Advisors.
Green Energy Oilfield Services, located in Fairfield, Texas, will use the trucks to service XTO Energy, a subsidiary of ExxonMobil and producer in the Freestone play oilfield in Freestone County, Texas. Green Energy Oilfield Services will operate 50 trucks as vacuum trucks, used to remove and dispose of formation water, and 10 as winch trucks, used to transport frac tanks. The trucks are expected to enter operation in April. Clean Energy will provide the LNG fuel for the vehicles.
"Because the trucks are LNG-powered, we will not bill a diesel surcharge, allowing us to pass on an estimated $5 million in savings annually to XTO Energy," says Roger Nevill, president and chief operating officer of Green Energy Oilfield Services. "Even further, we can return support for our customer's business by powering our trucks with LNG fuel."
The trucks were sold to Green Energy by Rush Truck Center-Austin and will be supported in the field by Rush Truck Center-Waco through aftermarket parts and mobile service operations with LNG-certified technicians. "We are committed to providing solutions both in truck sales and support after the sale for our natural gas customers," says W.M. "Rusty" Rush, president and chief executive officer of Rush Enterprises. "We have made significant investments to help ensure our truck sales professionals are skilled in alternate fuel technology. We expect to have 100 natural gas-certified technicians around the country by late 2012 and have plans to designate and equip about 10 locations as natural gas support dealerships."
The Peterbilt Model 388 tractors are equipped with a Westport HD 15-liter natural gas engine, Eaton 13-speed transmission, 40,000-pound Dana Spicer rear axles and a Peterbilt Airtrac suspension.
The pilot review was conducted at Peterbilt's manufacturing facility in Denton, Texas, and included executives from Green Energy Oilfield Services, Lone Star Investment Advisors, Peterbilt, Rush Truck Centers, Westport Innovations, Clean Energy and XTO Energy.