Fuel filter/water separators
Parker Hannifin's Racor Division designed its High Capacity Spin-On Filter R125 Series of fuel filter/water separators as direct replacements for its 300, 400, 600 and 700 Series fuel filters. The threads for both the fuel filter head and the collection bowl are designed to be compatible.
Parker Hannifin/Racor
Visit www.ccjdigital.com/info
Off-highway HVAC system
Bergstrom's HVAC system for off-highway vehicles consists of four separate modules – a mode distribution module, a heat exchanger module, a blower module and an air intake module – to allow for multiple application-specific installation options. The unit features standard automatic temperature controls, variable blower speed, customizable air inlet and outlet configurations and a flash-programmable controller with a CAN interface.
➡ Bergstrom
Visit www.ccjdigital.com/info
Fuel polishing cart
Parker Hannifin's Racor Division offers a heavy-duty fuel polishing cart designed to clean up and recycle old or contaminated diesel, biodiesel and other petroleum hydrocarbon fluids. The cart also can be used in preventive maintenance practices to keep fuel tanks clean, or as a servicing unit to clean up fuel tanks that have become contaminated with rain, seawater, dirt, rust or microbial growth. The cart has 1-inch cam-lock fittings for easy connection, an FBO-14 fuel filter that does not require any tools for filter changeouts and a lighweight all-aluminum construction that also is durable and corrosion-resistant.
➡ Parker Hannifin/Racor
Visit www.ccjdigital.com/info
Docking station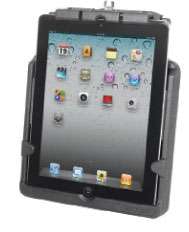 Gamber-Johnson's TabCruzer docking station is designed for tablet computers in commercial vehicle applications. The TabCruzer is compatible with iPad and iPad 2 and allows users to charge the iPad within a vehicle and to sync the tablet with a computer. The docking station is designed ergonomically with a small footprint to maximize vehicle space and features a one-handed docking latch and an optional locking mechanism to protect the tablet and deter theft. The TabCruzer comes with a 12V DC power supply, a USB cable for charging and syncing and a 3.5mm stereo cable to allow users to play back audio by integrating with a vehicle's sound system.
➡ Gamber-Johnson
Visit www.ccjdigital.com/info
Wheel aligner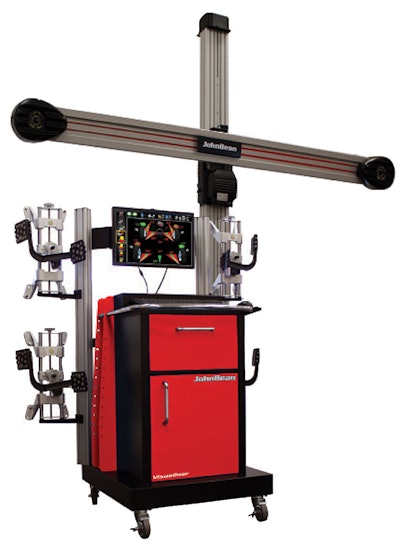 Snap-on's John Bean X-Cel Wheel Aligner features the company's V3D X-Cel imaging alignment system designed to provide accurate real-time measurements to reduce setup and measurement times. Ultra-high-resolution cameras produce real-time alignment readings and diagnostic data, including 3D modeling of the wheel position, helping to eliminate missed collision damage or mismatched tires and wheels. The wheel clamps and grips are built to provide a solid attachment, while a rolling run-out compensation procedure is designed to accommodate a wide range of vehicles without hardware changes.
➡ Snap-on
Visit www.ccjdigital.com/info
All-position steer tire

Goodyear has expanded its portfolio of Dunlop brand truck tires with the Dunlop SP348, an all-position steer tire for regional fleet, school bus and pickup-and-delivery applications. Features include a deep tread that helps provide more miles to removal, a rugged casing design, an enhanced shoulder rib for improved scrub resistance and protection against curbing abrasions, and stone ejectors in grooves that help resist cuts and punctures. The tire currently is available in seven sizes: 11R22.5, 225/70R19.5, 245/70R19.5, 10R22.5, 12R22.5, 11R24.5 and 295/75R22.5. Two additional sizes – 285/75R24.5 and 255/70R22.5 – will be available later this year.
➡ Goodyear Tire & Rubber Co.
Visit www.ccjdigital.com/info
Bead loosener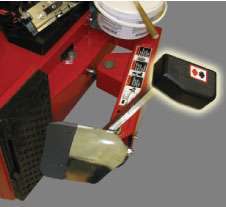 Hunter's TCX575 tire changers now include the PowerOut side-shovel bead loosener system designed to provide fingertip bead-loosening controls outside of the wheel on the shovel handle. The ergonomic design helps eliminate the foot-pedal control that often forces technicians into awkward positions when loosening beads.
➡ Hunter Engineering Co.
Visit www.ccjdigital.com/info
Metric impact socket set

Snap-on's ½-inch-drive 12-piece semi-deep six-point metric impact socket set ranges in sizes from 15 to 27 millimeters. The set features a flank drive wrenching system that grips the fastener on the flanks/flats to deliver more turning power, impact sockets that are heat-treated to a low hardness range to help withstand impact and wear rather than break, and a square drive-side hole that works with either ball- or pin-type retention.
➡ Snap-on
Visit www.ccjdigital.com/info
LED minibars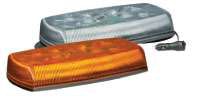 Ecco's 5585 Reflex Class I LED minibars feature 12-24V DC operation and use high-intensity LEDs and reflective technology to maximize light output. Users can select from 18 flash patterns via trigger wire on permanent-mount models or cigarette-plug switch on magnetic models. Permanent-mount models also can be synchronized to operate multiple lights alternately or simultaneously.
➡ Ecco
Visit www.ccjdigital.com/info
Tool storage roll cab
Snap-on's Epiq Mr. Big tool storage roll cabs are available with a rubber-mat work surface or a stainless-steel surface and are available in 13 standard colors. The roll cabs have 26 drawers, five banks and a PowerBank drawer and are 144 inches wide and 30 inches deep with 25,319 square inches and 91,690 cubic inches of storage and a 16,000-pound load capacity.
➡ Snap-on
Visit www.ccjdigital.com/info
Wide-base aluminum wheels
Alcoa's 14-inch wide-base aluminum wheels weigh 58 pounds and are engineered for lighter weight through the company's LvL One wheel manufacturing process. By replacing dual wheels, overall vehicle weight can be reduced for improved productivity and increased fuel economy while running cooler, extending tire durability. The wheels have load ratings up to 12,800 pounds and are available in 0-, 1- and 2-inch offsets to fit all axle types. Each wheel roll stamp indicates the offset mounting position, and the valve hole and stem direction are indicated to ensure proper installation for all axle types. The wheels are provided in clean buff, polished, Dura-Bright and Dura-Flange finish options.
➡ Alcoa
Visit www.ccjdigital.com/info
Protective barricades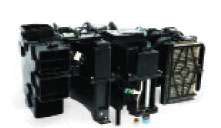 Labelmaster's protective barricades can help keep employees, customers and the general public safe by minimizing the chance of unauthorized entry into dangerous areas. The barricades are constructed of lightweight materials designed to allow for easy transport, setup and removal. Some units can be filled with either sand or liquid for added weight.
➡ Labelmaster
Visit www.ccjdigital.com/info
Compact floodlight

Whelen's Micro Pioneer compact spotlight/floodlight is suited for fire, emergency and rescue, marine, utility, offroad and agricultural vehicles. The light, designed with a rugged diecast aluminum housing and solid-state electronics, includes four optic lenses standard for wide flood, flood, horizontal flood, spot flood and spread patterns. The lenses can be changed via four screws in a picture-frame fixture. The light produces more than 3,900 lumens and draws 4 amps at 12.8V.
➡ Whelen Engineering
Visit www.ccjdigital.com/info
Drain blocker
New Pig's Pig Drainblocker curb-style drain cover is designed to seal vertical drains and is suited for locations where power washing and other spill-prone operations are common. A super-sealing urethane bottom layer helps create a tight seal, while the cover's polypropylene top helps resist tears, chemicals, oils and detergents.
➡ New Pig Corp.
Visit www.ccjdigital.com/info
Spray suppression quarter fender

Betts Spring's lightweight SprayOff Anti-Spray Poly Guard quarter fender incorporates a channel design that helps control road spray. SprayOff, built to accept multiple top flaps, is assembled in standard or low-mount configurations that can be field-modified and are unhanded to facilitate easy change from left to right.
➡ Betts Spring Co.
Visit www.ccjdigital.com/info
Trailer side skirt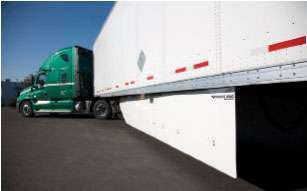 Freight Wing's AeroFlex 2012 side skirts are designed to improve fuel economy and are 30 pounds lighter than previous models. Using a dense matrix polyethylene material – a custom-engineered automotive plastic – the side skirts are built for extreme conditions from -103 to 158 degrees Fahrenheit and with "shape memory," the ability to return to their original form after large impacts. A mounting clamp system is designed to be easier to install and maintain to prevent slipping during extreme impacts while maintaining fairing alignment.
➡ Freight Wing
Visit www.ccjdigital.com/info
Mobile signal booster
Wilson Electronics' Sleek 4G-V mobile signal booster is designed to strengthen LTE signals, as well as 3G and 2G signals, in areas with Verizon Wireless LTE service, facilitating fewer dropped connections and no-service dead zones, faster data transfer rates and improved battery life for wireless devices. Designed for use in a vehicle, the Sleek 4G-V also can be used indoors with the purchase of an optional accessory kit for boosting signal to 4G wireless hotspots like the Verizon JetPack. In areas not served by Verizon Wireless LTE, the Sleek 4G-V is engineered to amplify any existing signal on 800 MHz and 1,900 MHz bands by delivering more than 20 times the power of a typical cell phone. Designed for use with a Bluetooth headset or other hands-free device, the Sleek 4G-V features sophisticated cell tower protection technologies and simple do-it-yourself installation in minutes.
➡ Wilson Electronics
Visit www.ccjdigital.com/info
Fuel filter/water separator
Parker Hannifin's Racor division now equips its 700 Series fuel filter/water separators with an integrated fuel priming pump. The separator assemblies are two-stage filtration and repriming systems designed to isolate contaminants present in diesel fuels and trap them prior to reaching the fuel injection system.
➡ Parker Hannifin/Racor
Visit www.ccjdigital.com/info
Diagnostic station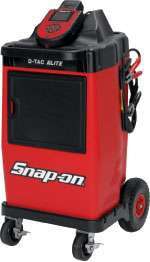 Snap-on's D-Tac Elite diagnostic station includes a charger, battery, starting and charging system tester, engine starter, digital multimeter, cable voltage drop tester and flash-reprogram device.
➡ Snap-on
Visit www.ccjdigital.com/info
Water-in-fuel sensors
Parker Hannifin's Racor Division offers a wide selection of water-in-fuel Electronic Water Sensors designed to detect water in fuel at the sensor tips, then send a signal to a detection module that alerts the operator by a light or buzzer. The detection modules are engineered to reset automatically once water is drained away from the sensor tips. For some applications, WIF sensors are connected directly to engine computers and do not require a detection module.
➡ Parker Hannifin/Racor
Visit www.ccjdigital.com/info
Caster dollies
Colson Caster has expanded its Encore dolly line of swivel casters with a top-lock brake model in all sizes, an economy rigid model and an optional No. 59 top plate. The top-lock brake model is formed with a durable zinc-plated finish and paired with the series' gray TPR wheel fitted with a plastic thread guard that also serves as an integrated spanner brushing. All models have a 1¼-inch tread width and are available in 3-, 3½-, 4- and 5-inch wheel diameters with load capacities from 180 to 260 pounds. The casters are built with a single centered precision wheel bearing to facilitate easy rolling.
➡ Colson Caster Corp.
Visit www.ccjdigital.com/info
Portable tablet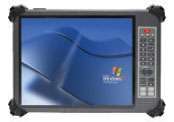 Glacier's T510K portable tablet offers a 10-inch resistive touchscreen with a 23-key interface, 802.11 b/g/n wireless, Bluetooth, Gobi 3000 3G module, camera, 2D barcode scanner and RFID. Windows XP or 7 Pro is standard, along with the Intel Atom processor. The vibration- and shock-tested tablet includes grip-and-go handles and both desktop and vehicle cradles.
➡ Glacier Computer
Visit www.ccjdigital.com/info
Heavy-duty battery
Exide's Extreme Power 1000 heavy-duty battery is designed to offer greater starting power and more vibration resistance. The battery delivers 1,000 cold cranking amps and 200 reserve capacity minutes and features silver alloy-cast positive grids, double-insulated glass mat-lined separator envelopes, epoxy anchor bonding and a reinforced case and cover with a handle for transport.
➡ Exide Technologies
Visit www.ccjdigital.com/info
Surface cleaner, degreaser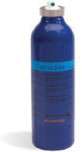 Walter's AF-Clean surface cleaner and degreaser is designed to replace toxic solvents in the preparation and cleaning of metallic surfaces prior to painting, priming, coating, gluing or applying corrosion protection. An alternative to acetone or toluene for surface preparation, the environmentally friendly formula is nonflammable and biodegradable. AF-Clean's aluminum bottles can be filled and refilled with Walter's Air Force automatic refilling station, which is propelled by compressed air. The liquid also is available in a 10-liter (2.64-gallon) bag-in-box and a bulk 208-liter drum.
➡ Walter Surface Technologies
Visit www.ccjdigital.com/info
Trailer/ABS diagnostic tester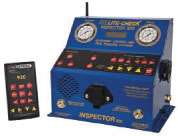 Lite-Check's Inspector 920 tester for trailer electronics and ABS offers an updated electronic platform designed for faster and more accurate and detailed four-line message displays with millivolt and milliamp readings for more precise circuit diagnostics. Road Stability Control ABS codes for major suppliers are included in the software; a keystroke will display ABS type, configuration, VIN, current and stored faults, ECU voltage and trip odometer mileage, and also clear the faults. The software includes standard PLC ABS codes since 2001, which can be upgraded with a Lite-Check e-mail download. A built-in three-step ABS process helps cut troubleshooting time by identifying circuit issues and displaying conditions automatically.
➡ Lite-Check
Visit www.ccjdigital.com/info
Portable DPF cleaner

OTC's portable diesel particulate filter cleaner is designed for both shop and field use. The lightweight device operates on 110V electricity using shop or compressed air of at least 100 psi, cleaning each DPF chamber individually as it moves in a spiral pattern toward the DPF's center. A proprietary floating puck is designed to prevent splashback by concentrating a precise high-pressure stream of air directly into every cell. The flexible seal rings are designed to allow the unit to clean most DPFs from 6 to 15½ inches in diameter. The cleaner has no internal filter to maintain, and the cleaning process, once started, can be completed with minimal oversight.
➡ OTC
Visit www.ccjdigital.com/info
Tire lifter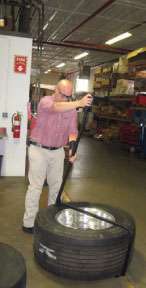 Kiene's tire lifter is designed to allow a technician to safely lift 22.5- and 24.5-inch single tire and wheel assemblies as well as 300-pound super-single tire and wheel assemblies. The lightweight portable tool weighs 13 pounds and can be stored conveniently when not in use by hanging it on a wall.
➡ Kiene Diesel
Visit www.ccjdigital.com/info