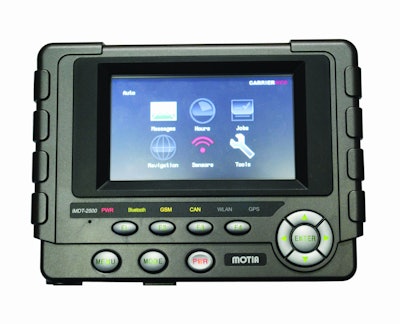 CarrierWeb, an Atlanta-based manufacturer of EOBRs, announced plans to introduce two new fleet management products at the Truckload Carrier Association annual convention held March 4-7 in Kissimmee, Fla.
The CarrierMate 2500 and CarrierMate 5700 are scheduled for release on April 1, 2012. Both terminals feature driver-friendly, high-resolution interfaces. The 2500 has a 4.3″ touchscreen display and the 5700 a 7″ display. Both come with electronic logging, auto dispatch and compliance alert notifications. The 5700 features an on-board scanner and provides additional features, including training videos and reports on emissions and fuel, and updates information about driver performance hourly.
CarrierWeb says both terminals are designed to drive down the cost of mobile communications and help fleets and drivers manage sophisticated data. The new touch-screen EOBRs meet all Department of Transportation (DOT) requirements, while delivering tracking, messaging and other fleet management applications to monitor factors such as speed, mileage and driver activities.
Pricing for the 2500 is $675 with three monthly service packages. The EOBR package includes messaging and tracking for less than $25 per month. The Plus package is less than $35 per month and includes an EOBR with more messaging and integration features. The Platinum package includes navigation and management dashboard reporting.
Under CarrierWEb's communications plan, fleets get software, maintenance and training at one monthly cost with no hidden fees.
"Our customers are always looking for ways to better manage the data that drives better business decisions," said Norman Thomas, vice president of commercial operations. "With the data our EOBRs provide, fleets can act upon the most current information to improve their bottom line."