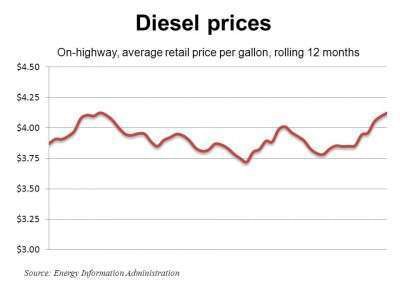 With the price of crude oil starting to stabilize, so too is the price of diesel. The average retail price of a gallon of on-highway diesel rose 2.9 cents to $4.123 during the week ended Monday, March 12, according to the U.S. Department of Energy's Energy Information Administration. Although prices have now risen for seven straight weeks, the magnitude of those increases has dropped since peaking at 9.1 cents two weeks ago. Prices are 21.5 cents higher than the same week last year.
Prices rose in all regions except New England, where the average price of diesel dipped just three-tenths of a cent. The largest increase was 8.3 cents in the Rocky Mountain region; the smallest was two-tenths of a cent in the Lower Atlantic and the Eastern region as a whole. As usual, the nation's most expensive diesel on average is in California, where the average price is $4.483 per gallon. The least expensive diesel on average is $4.016 a gallon in the Midwest. With last week's increases, the average price of diesel in all regions of the country is now about $4 a gallon.
Complete diesel price information is available on EIA's Website.