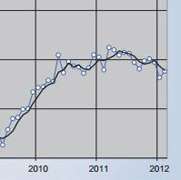 The Ceridian-UCLA Pulse of Commerce Index issued Tuesday, March 13, by the UCLA Anderson School of Management and Ceridian Corp. rose 0.7 percent in February but was not enough to offset the 1.7 percent decline in the previous month.
The most recent three-month period from December 2011 to February is lower than the previous three months from September 2011 to November 2011 by 3.2 percent at an annualized rate. With the first two months of the quarter known, the PCI must grow by more than 4 percent from February to March to allow the PCI to grow positively in the first quarter of 2012 compared with the last quarter of 2011.
"The continuing weakness of the PCI is signaling that, perhaps, the recovery in home building has not yet taken hold," says Ed Leamer, chief economist for the Ceridian-UCLA Pulse of Commerce Index and director of the UCLA Anderson Forecast. "The recent improvement in building permits and housing starts may get building going again and, therefore, trucking as well, as it has been said that it takes 17 truckloads to build a home. If we get the saws and hammers going again, we will have a real recovery with much healthier job growth."
The year-over-year growth in the PCI since May 2011 has been wobbling slightly above zero. In December 2011, the year-over-year growth turned negative at -0.8 percent, with January even worse at -2.2 percent. February year-over-year was -0.2 percent.