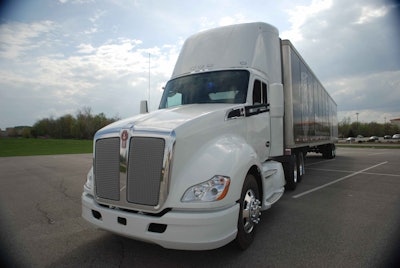 Kenworth engineers spent five years working on the new T680's design, and it shows – inside and out. The front end of the truck builds on the company's aerodynamic heritage with a smooth sculpted look, but no matter how rounded the design, it's obvious this is a Kenworth. No sharp or protruding edges are evident, making this the sleekest design the company has ever produced, said Brian Lindgren, manager of research and development.
My test-drive truck was a regional-cab tractor with an MX13 engine and an Eaton 10-speed manual gearbox. Settling into the cab was a delight thanks to Kenworth's all-new seat design featuring an advanced air-suspension system and multiple lumbar and recline adjustments. Combined with the new tilt/telescoping steering wheel, the overall design makes it easy to get comfortable quickly.
Another nice touch is the redesigned dashboard. If there's a theme here, it has to be simplicity. Kenworth engineers determined that truck dashes were becoming crammed with competing information systems that all too often prove to be difficult and distracting to operate. But everything in the T680's cab is laid out logically and ergonomically. Critical engine and vehicle data is arranged in the new "A" cluster directly in front of the driver, with auxiliary controls and switches within easy reach. Toggle switches glow green when activated to allow drivers to tell at a glance if they're on.
Pulling out of the Peterson Kenworth lot in Louisville, Ky., with a partially loaded 53-foot trailer behind was a snap thanks to the company's new clutch. Most comparable clutches demand about 55 pounds of down force from your left leg to actuate, but Kenworth's new clutch has a hydraulic-assist feature that dramatically reduces the amount of force needed – down to about 30 pounds of pressure. The result is a truck that is noticeably less fatiguing to drive, even in heavy traffic.
Once out on the Interstate 264 bypass, the T680 accelerated smoothly. But even in lower gears, the sound quality in the cab was amazing. In the new chassis and cab design, Kenworth focused on sound-dampening qualities from the ground up. Too often, Lindgren said, sound-dampening materials are added late in the design process.
"When you do that, you're really just covering up mistakes you made during the initial design phase," he said. "But with the T680, we made sound dampening a priority from the get-go and managed to achieve an impressively quiet cab without adding a lot of sound insulation materials." Combined with the airflow over the tractor, the cab is quiet and vibration-free – even on rough Kentucky roads with wind gusts from an approaching storm front.
Drivers also will appreciate the commanding views from the T680 driver seat. The truck's windshield is taller than other Kenworths, while a new "A pillar" design – thinner and less intrusive but just as strong – also gives the impression of a wider field of view. The new rearview mirror design also contributes to overall awareness, so drivers can feel confident and secure when changing lanes or dealing with heavy traffic.
The truck displayed no bad habits or quirks cruising on the highway. Overall handling characteristics – in both heavy traffic and at highway speeds – were straightforward. And although my drive was brief, it was in fairly stressful traffic conditions. The truck's design features kept stress and fatigue low throughout the trip.