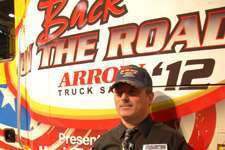 Billy Basenburg soon will be driving cross-country in a new truck, with a new job and renewed spirit, after being named winner of Arrow Truck Sales 2012 Back on the Road program. The Jasper, Ala., resident lost his truck and was in danger of losing his home after a series of hardships consumed his time and drained his budget.
A decade ago, his wife was in a serious car accident that left her with a debilitating back injury, and Basenburg had to spend time away from his business to care for his wife while she went through surgeries and rehab.
More recently, his son returned home from being deployed to Iraq battling post-traumatic stress disorder and depression. Basenburg's older brother also became ill and needed care. Basenburg took his brother in and cared for him until he died.
With the truck, a 2008 Mack Pinnacle High-Rise Sleeper, comes a one-year work agreement with Heartland Express. Also in the package are:
• Michelin XZA3+ and X One XDA Energy tires;
• ThermoKing TriPac APU;
• Monthly $500 fuel cards from Pilot Flying J;
• Business consulting services from ATBS;
• Insurance provided by the Owner-Operator Independent Drivers Association;
• A 3-year/300,000-mile warranty from National Truck Protection;
• A year's worth of oil changes from Mobil Delvac;
• Truck accessories, fenders and a $5,000 check from Minimizer;
• A memory-foam mattress from SleepDog;
• An IntelliRoute TND 710 GPS from Rand McNally;
• Cubby Buddy Tool Box system from 16 Ton Industries;
• Health assessment and checkups from Trucker Trainer Bob Perry; and
• Custom truck graphics by Image Works.