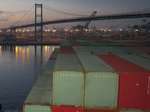 Two southern California ports reported increased container volume in March. The Port of Long Beach said that inbound container volume climbed 18.3 percent and exports rose by 10 percent in March compared to the same period a year ago. The Port of Los Angeles said that imports increased 9.3 percent in March.
The Long Beach port said overall container volume was up 12 percent; port terminals handled 461,600 20-foot equivalent container units last month compared to 412,250 TEUs in March 2011.After a drop last month, partly attributed to Chinese New Year, cargo bounced back in March in the month-to-month comparison. For the calendar year, container volumes at the port are down slightly by 2.9 percent compared to the first three months of 2011.
For March, import containers accounted for 226,150 TEUs compared to 191,200 TEUs in the same period last year. Export containers hit 144,850 TEUs compared to 131,750 TEUs in March 2011. Empty container moves were flat, up by 1.5 percent to 90,600 TEUs compared to 89,250 TEUs a year ago; empty containers are sent overseas to be refilled with goods.
The Los Angeles port said the March increase in imports reflected a surge in volume following the Chinese New Year break. Overall March volumes increased 8.27 percent. The port says it has handled 1.9 million 20-foot equivalent units (TEUs) to date in calendar year 2012.