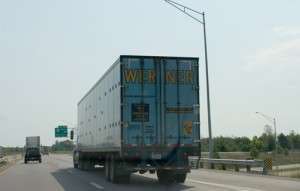 Werner Enterprises on Wednesday, April 18, announced 2012 first-quarter total revenue of $498.4 million, a 6 percent increase from $469.4 million for the same quarter in 2011. Net income was $21.2 million, up 30 percent from $16.3 million, the ninth consecutive quarter in which Werner attained year-over-year earnings growth in excess of 20 percent.
The Omaha, Neb.-based reight demand exhibited typical seasonal freight trends and gradually improved from January to February to March. "Freight trends in first quarter 2012 were more steady and balanced throughout the U.S. geographic network compared to first quarter 2011," the company said, attributing the smoother flow to "unusually mild winter weather throughout much of the U.S."
Werner said that to date in April, "we are experiencing normal seasonal freight improvement compared to March 2012. We continue to believe that favorable truckload demand trends are caused to a greater degree by supply side constraints limiting truckload capacity, as compared to growing demand generated by increased economic activity."
The company said its primary objectives "continue to be expanding our operating margin percentage and improving our returns on assets, equity and invested capital, while staying true to our broad transportation services portfolio." Werner said industry capacity remains constrained by economic, safety and regulatory factors. "Assuming the domestic economy strengthens, we anticipate the driver market will become more challenging as we progress through 2012."
Werner said that while historically higher national unemployment rates have aided its driver recruiting and retention efforts, the company believes that an improved freight market, extended unemployment benefit payment programs, a reduction in available truck driving school graduates and changing industry safety regulations are tightening driver supply.