5 ways technology can offer stronger protection against the risk of rising diesel prices
Two years ago, the Celadon Group went on "lockdown mode" for fuel and toll costs, and drivers for the 3,000-truck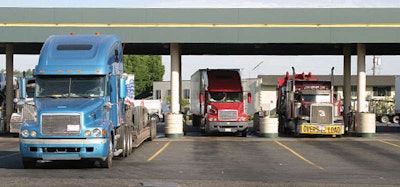 Indianapolis-based company now have no choice but to comply.
Celadon uses an automated system, Fuel&Route by Manhattan Associates, to send drivers the optimal least-cost route plan with every dispatch. Drivers are given fuel stops, gallon amounts and specific mile markers to enter and exit from toll roads.
Through its fuel card program, the company authorizes purchases for the specific locations and gallon amounts established by Fuel&Route. Drivers also receive cash advances to pay for the pre-approved tolls as calculated by ALK's PC Miler software.
The lockdown has saved the company millions, says Mike Gabbei, chief information officer. Fuel compliance has increased from 30 percent to virtually 100 percent. Toll cost compliance is automated by reimbursing drivers only for pre-approved amounts from toll receipts.
But one area that Celadon and most fleets have not locked down completely is fuel theft. Despite today's technology, it still is possible for less-than-honest drivers to siphon or sell fuel at truckstops without getting caught. While those losses are minimal compared to the gallons burned from idling, going out-of-route and deadheading, the risk cannot be ignored when prices are more than $4 per gallon.
"Trucking companies hate to issue cards."
– Ken Patton,
vice president of merchant sales, Comdata
The following new technologies make it possible to control fuel spend more tightly and eliminate the possibility of theft.
1. True mpg
Detecting fuel theft can be difficult even for experienced analysts. Virtually any fuel card program and a mobile computing and communications system can capture the vehicle's "physical" mpg with gallons purchased and odometer readings.
Electronic Control Modules (ECMs) base their own mpg calculations on actual fuel consumption, but a sudden decrease of electronic mpg between fuel events is just a warning sign, not hard evidence of theft.
To get the truth, physical mpg must be compared to electronic mpg. The two measures inherently can differ by 5 to 10 percent; this variance comes from how ECMs report mpg, and it differs by engine manufacturer, year and model.
A Fuel Auditor feature in Blue Tree Systems' R:Com wireless fleet management system compares the amount of fuel burned by each truck to the amount of fuel purchased. Through R:Com's Web-based interface, fleet managers can import fuel purchase data from electronic fuel cards, onsite pumps or paper receipts. Discrepancies are highlighted, and users can drill down to determine the exact time window and location of the discrepancy.
Fuel Auditor also constantly monitors the tank level of vehicles to detect all fuel fills and extractions and maps the location of the fuel level change event. Tank level data is available from vehicles built since 2007 on the J1939 databus.
Vusion, a data analytics and integration division of PeopleNet, created a model to capture and analyze a range of data from dispatch systems, electronic engines, equipment profiles, mobile computers and fuel card programs. Vusion uses this model and statistical analysis to normalize mpg and isolate variance due to theft.
However, fuel theft remains difficult to detect when done infrequently and in small quantities, such as 30 gallons or less. "Generally, what we're seeing for theft is relatively isolated occurrences involving less than 1 percent of the drivers," says Tom Fansler, president of Vusion. "Where more widespread theft issues exist, these have involved company personnel outside the driver pool."
Vusion provides monthly fuel reports that pinpoint events where theft likely occurred and also offers real-time alerting. The company can monitor tank level data captured from a vehicle's J1939 databus through PeopleNet's mobile computing platform.
When a driver pulls up to a pump, PeopleNet captures tank levels when the ignition is off. When the driver completes the fueling, PeopleNet reports a second tank level when the ignition is turned back on. Vusion captures both events to match the fuel purchase to the available tank capacity. The system sends an alert if a portion of the purchase was not delivered to the truck's tank.
2. Cardless fueling
An unscrupulous company driver pulls up to a pump at a truckstop, exits the vehicle, swipes his fuel card and enters
a PIN, vehicle number and odometer reading. This information is sent to a fuel card provider, and the pump is authorized to dispense fuel according to the fleet's settings.
If the pump is authorized for 120 gallons, the driver could pump 100 gallons and pull forward without hanging up the pump. Another bargain-hunting driver would pull in behind and buy the remainder from the sneaky company driver for perhaps $60 at $3 per gallon.
Major truckstop chains now have the technology to prevent this scenario, but will fleets pay to use it? The justification is more compelling than preventing theft; the technology also eliminates the expense and hassle of managing fuel cards, and fleets can capture accurate vehicle information at each fueling such as odometer readings, fuel consumption and engine diagnostics.
In late 2010, fleet fuel card provider Transportation Clearing House and Zonar, which provides fleet GPS tracking and electronic inspection systems, announced a fuel purchase security system called Z-Con that combines ultrasonic and infrared technologies with vehicle telematics to authorize fuel transactions. Z-Con, now available at 525 Pilot Flying J locations nationwide, is offered for a small upfront cost and a monthly fee per truck.
"Fuel theft was probably the main driver."
– Kevin Farnsworth,
Chief information officer, Electronic funds source
"As we looked at this technology, and how it might be used, fuel theft was probably the main driver that led us to this point," says Kevin Farnsworth, chief information officer of Electronic Funds Source, a company created by merging TCH and EFS Transportation Services in December 2011. "Fuel theft detection is just a small part of the entire set of functionality we can provide."
Z-Con has evolved from a theft prevention product into a management tool to help save time and fuel. A telematics unit installed in the vehicle makes it possible for Z-Con to capture fuel consumption and engine fault code information between fuel events. Z-Con soon will add tank level reporting to detect possible fuel theft events such as siphoning between fuel stops.
EFS also is developing a Web-based application for Z-Con that will add new reporting features such as physical and electronic mpg comparisons. Carriers will be able to select from different packages; starting with the base functionality of cardless fuel authorizations, optional features will include reports for idle time, route compliance and fuel taxes, along with satellite tracking.
Comdata is marketing SmartQ, a cardless fueling system now being implemented at Love's Travel Stops and Travel Centers of America nationwide. "Trucking companies hate to issue cards," says Ken Patton, Comdata's vice president of merchant sales. "They view it as an expense and pain."
The SmartQ system consists of an antenna located above each lane on a fuel island. When the antenna-based system detects a vehicle's RFID card, the pump is authorized to fuel according to a fleet's purchase controls.
Some fleets also may want drivers to manually input information such as a PIN and odometer reading into the pump reader before authorizing fueling. As soon as the truck leaves, the pump is shut off. For fleets, the only cost is an inexpensive RFID tag that replaces a fuel card. Once the tag is fixed to a windshield, the RFID chip inside will tear when removed to prevent it from being used in a different vehicle.
QuikQ, the company that designed the SmartQ system, recently announced a serial connection option. The RFID chip will be able to transmit information such as a vehicle's VIN number and odometer reading at each fueling to eliminate data entry by the driver.
QuikQ's cardless fuel purchasing system, DF Connect, integrates with fleet transportation management systems to authorize fuel transactions. The system is designed for carriers to send fuel purchase orders to drivers automatically through mobile communications. The PO number can be authorized for specific locations and gallon amounts to match drivers' fuel and route plans.
3. Chasing down savings
The volatility of fuel prices poses another risk to commercial and private fleet operations. One way to address this challenge is with technology that chooses fueling locations that maximize savings at the pump.
Fleet One cardholders can access a free Local Sites app to find the lowest-priced fuel within a driver's immediate proximity. Drivers can load the app on their smartphones; search results can be filtered for preferred products, and GPS-enabled routing can guide the way.
Fuel optimization systems can consider a full range of fleetwide information to make fuel recommendations for each driver.
McLeod Software offers an integrated dispatch and fuel purchasing system through a partnership with ProMiles. McLeod's LoadMaster dispatch system sends route and equipment data, including tank capacity and current fuel level, to ProMiles via a Web service.
ProMiles creates an optimal fuel plan for each dispatch based on a fleet's current fuel network. The plan is returned to LoadMaster to send the recommended fuel stops and gallons to drivers through mobile communications. McLeod also provides fuel purchase data to ProMiles to create fuel compliance reports.
McLeod offers the fuel optimization program in a transaction-based model; customers can prepay for transactions and spread the cost out over time. "This gives customers a 'try versus buy' opportunity," says Robert Brothers, manager of product development for McLeod. "This lets a small fleet evaluate the system quickly."
TMW Systems offers an integrated fuel purchasing system, IDSC ExpertFuel, to reduce fuel costs. The company recently added tolls to its optimization engine; by integrating with the major mileage and routing systems, IDSC ExpertFuel compares the cost and time savings of using or avoiding toll roads as part of an optimized fuel purchase plan.
The system also includes diesel exhaust fluid in its fuel recommendations. The software differentiates between locations that sell DEF in bulk versus packages to determine the lowest overall cost per fuel stop.
4. Buying in bulk
While fuel surcharge programs can help protect carriers from price volatility, they do not cover fuel lost to idling, deadheading and out-of-route miles, which can be 20 to 30 percent of a fleet's total fuel bill. These gallons can be protected strategically against price volatility with technology to automate the buying process.
Simons Petroleum offers a number of programs designed to protect or stabilize fuel prices over a contract period. The company markets its fuel contracts as a physical delivery hedge. The contract price of fuel is fixed at the pump through the physical delivery of fuel to the Pathway Network, which consists mainly of Love's Travel Stops.
Fleets can use their current fuel cards to buy fuel in the Pathway Network. Each transaction is reconciled to the contracted fuel price at the time of purchase.
A physical delivery hedge does not require fleets to buy fuel contracts in increments, as is the case with financial hedges where heating oil contracts are purchased through NYMEX in 42,000-barrel increments. The gains in the NYMEX stock market are used to offset physical fuel costs as prices rise.
A physical delivery hedge lets fleets see their fuel costs all the way to the pump, says Brad Simons, president. Fuel contracts can be purchased for the actual number of gallons burned in a month that are not protected by a fuel surcharge. Due to the upswing in fuel costs, contracts that were in place at the start of the year are netting fuel savings of between 17 to 25 cents a gallon, Simons says.
Technology also can be used to manage terminal fueling. Fleets that use FuelQuest's Fuel Center – a program that includes software and outsourced services – typically are buying one million gallons or more annually for terminal fueling and saving between 4 to 6 cents per gallon, says Ryan Mossman, vice president and general manager of Fuel Center.
The Fuel Center service includes personnel that make daily buying decisions and manage inventory levels at each site. Fuel Center software centralizes all fuel orders, shipment notifications to carriers and payments to fuel suppliers and carriers.
As part of the service, fleets have access to dashboards that monitor fuel inventory and usage, as well as their fuel savings for each order.
5. Tracking via fuel
Many fleet management systems are programmed to report location and other data from vehicles in fixed intervals, such as 15 minutes or less. Collectively, these data points form a "breadcrumb trail" of activity along a route. Managers use this trail to see exceptions such as unplanned stops, delays, out-of-route miles or speeding.
Including fuel consumption in the breadcrumb trail can provide more insights to the cost of servicing a route. Zonar recently added a new feature that reports fuel consumption by location. An algorithm adjusts the frequency of GPS reporting dynamically as changes to five dimensions occur: latitude, longitude, time, odometer readings and fuel consumption.
When a vehicle rapidly changes speed and direction such as in an urban area, Zonar reports more frequently. The breadcrumb trail's density also increases when fuel usage changes; the faster fuel flows through the injectors, the more frequent the reporting.
"You can get really dense data where fuel use is spiking," says Chris Oliver, vice president of sales and marketing.
If a driver is traveling on an interstate through the mountains, the system reports more frequently when fuel consumption increases suddenly as the truck climbs a hill.
Route summary reports in Zonar's Web-based management system, Ground Traffic Control, show the "mpg density" of routes for any time period. Route segments where fuel use is highest are color-coded in red, followed by yellow for better performance and green for best.
Fleets can use the summary reports to realize a route's attributes and how it can impact their fuel use. Armed with this information, fleets can understand their true costs and consider taking alternate routes based on fuel savings.
Technology and strategic fuel buying not only saves money at the pump but also eliminates unnecessary exposure to risk and waste.
FUEL FOR THOUGHT
Most fleets have suspected fuel theft and take precautions
In the March Randall-Reilly MarketPulse survey, trucking executives were asked about fuel theft in their operations. The majority said they have suspected it was happening and that they have systems in place to detect it; also, more than half have caught a driver using a company fuel card to steal fuel.
Have you ever suspected fuel theft in your operation? YES – 77.2%, NO – 22.8%
Do you have any systems currently in place to detect fuel theft? YES – 73.4%, NO – 26.6%
Have you ever caught a driver stealing fuel by using a company fuel card? YES – 60.8%, NO – 39.2%
Are you considering any new technologies to limit exposure to fuel theft? YES – 45.6%, NO – 54.4%