Righting a wrong
Latest change to SMS could spell relief for flatbed haulers
During the days of the Compliance Safety Accountability program's Operation Model Test period, flatbed carriers raised their concerns over the Cargo-Related Behavior Analysis and Safety Improvement Category. Although the category includes all carriers and load types, flatbed carriers – whose loads are visible at all times by local and state law enforcement and scale-house operators – would face the lion's share of scrutiny under the new system, or so they argued.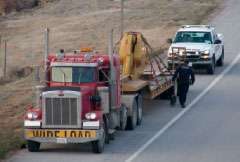 When the Federal Motor Carrier Safety Administration flipped the switch on CSA in December 2010, flatbedders' fears were realized. FMCSA's own recent analysis shows cargo/load securement violations account for 82 percent of all violations within the Cargo-Related BASIC, and that two out of three flatbed carriers were above the intervention threshold.
During the feedback period before CSA went live, FMCSA recognized the potential for bias, and to its credit, the agency removed percentiles and intervention status in the Cargo-Related BASIC from public view.
Now, FMCSA plans to further level the playing field for flatbed carriers. In March, the agency announced a change to the Safety Measurement System, moving cargo/load securement violations out of the Cargo-Related BASIC and into the Vehicle Maintenance BASIC. According to FMCSA, the move "both strengthens the SMS's ability to identify carriers for safety interventions and reduces the potential bias."
In a study of the impact this would have on flatbed carriers, FMCSA says the change would mean that 21 percent of flatbed carriers would be above the intervention threshold in the revised Vehicle Maintenance BASIC. FMCSA is allowing fleets to get a preview of the effects of the SMS changes through late June. It will accept feedback from preview participants and may make further enhancements prior to full implementation of the changes later this summer.
In a blog post linked to CCJ's LinkedIn group, Vigillo CEO Steve Bryan discussed some unintended consequences of the SMS change, namely that moving cargo/load securement violations "essentially dissolves them in a vast ocean of Maintenance violations and not only removes the unfair bias against flatbeds, but virtually eliminates cargo violations as an issue."
To mitigate this problem, FMCSA says it has recalibrated the violation severity weights of cargo/load securement violations against severity weights of other Vehicle Maintenance BASIC violations, but did not publish those changes in the Federal Register.
By incorporating cargo/load securement violations into the Vehicle Maintenance BASIC, FMCSA will replace the Cargo-Related BASIC with a new HM (Hazmat) BASIC based on vehicle inspections. At present, the agency plans to make carrier performance in the HM BASIC public.
JEFF CRISSEY is Editor of Commercial Carrier Journal. E-mail jcrissey@ccjmagazine.com.
New Department
CCJ is excited to announce its new department, "Recruit & Retain" (see page 24). Each month, we'll interview a driver recruiting executive. This month, Crete Carrier's Andy Brabec discusses the company's social media initiative and its impact on recruiting. In June, Celadon CEO Stephen Russell will discuss his company's driver health program. If you have recruiting and retention topics you'd like us to explore, please e-mail us at jcrissey@ccjmagazine.com.