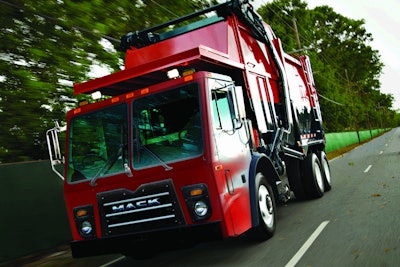 Mack Trucks is showcasing three natural gas-powered Mack TerraPro models – two Cabover and one Low Entry – during Waste Expo 2012, scheduled for May 1 to 3 in Las Vegas.
The natural gas-powered TerraPro model, equipped with a Cummins Westport ISL-G natural gas engine, offers an alternative fuel engine technology that combines the advantages of natural gas with power and performance.
"Natural gas is readily available in the U.S. and is a viable solution for the refuse segment," said Curtis Dorwart, Mack vocational products marketing manager. "As the dominant supplier of heavy-duty refuse trucks, our customers have turned to Mack for solutions, and we have responded with natural gas-powered versions of our TerraPro Cabover and TerraPro Low Entry models built to withstand the rigorous needs of their applications."
The TerraPro natural gas models meet U.S. Environmental Protection Agency 2010 and California Air Resources Board emissions levels and provide lower alternative fuel vehicle lifecycle costs and lower maintenance costs, improving customers' return on investment.
Mack also is displaying a tandem-steer version of its TerraPro Cabover in its booth (#13083) during Waste Expo 2012. Designed and engineered to maximize weight distribution, the tandem-steering option allows both front axles to steer and enhances payload and productivity for customers in refuse and recycling applications.
The TerraPro Cabover with tandem steering is equipped with a low-weight chassis and Simard suspension, which was adapted to optimize payload capacity. The tandem-steer TerraPro Cabover at Waste Expo will be in a front loader configuration and is powered by a Mack MP7 325 horsepower Maxidyne diesel engine.
"The load-equalizing tandem-steer TerraPro model enables greater payload to maximize revenue for our customers," Dorwart said. "The twin steer feature coupled with a low-weight chassis allows certain Canadian applications an extra edge in productivity."
Mack's Waste Expo 2012 booth will feature five TerraPro models.
• Mack TerraPro Cabover
Engine: Mack MP7 325 hp Maxidyne
Body: Whittke 40-yard Starlite front loader
With Simard tandem-tandem steering
• Mack TerraPro Low Entry
Engine: Mack MP7 325 hp Maxidyne
Body: Heil Environmental 28- yard Half/Pack Freedom front loader
With the Curotto Can
• Mack TerraPro Low Entry
Engine: Cummins Westport ISL-G 320 hp natural gas
Body: McNeilus 32-yard Pacific Series front loader
With the Curotto Can and Compressed Natural Gas (CNG) fuel system by McNeilus
• Mack TerraPro Cabover
Engine: Cummins Westport ISL-G 320 hp natural gas
Body: EZ Pack 40-yard Hercules front loader
With Compressed Natural Gas (CNG) fuel system factory by Agility Fuel Systems
• Mack TerraPro Cabover
Engine: Cummins Westport ISL-G 320 hp natural gas
Body: Wayne 44-yard Titan front loader
With Compressed Natural Gas (CNG) fuel system by Agility Fuel Systems