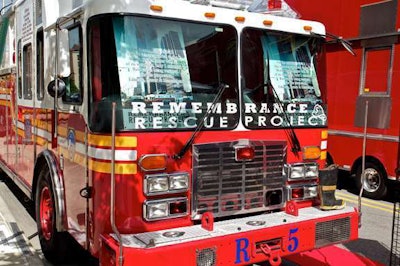 On Sept. 11, 2001, nine firefighters with the Fire Department, City of New York Rescue 4 unit and 11 firefighters with the Rescue 5 unit lost their lives trying to save others at the World Trade Center complex. Today, thanks to efforts by the Remembrance Rescue Project and the Commercial Vehicle Tire business unit of Continental Tire the Americas, two rescue trucks used by these units on 9/11 are restored and touring the country as teaching tools and mobile memorials.
In July 2011, a group of firefighters purchased FDNY Rescue 4, which lost its entire crew on 9/11, but survived the 9/11 events intact and was temporarily the only rescue unit in service in the City of New York immediately following the attacks. The firefighters formed the Remembrance Rescue Project in order to restore, preserve and operate the rescues in order to facilitate education sessions, memorials and remembrance events, said Project leader Chris Gantz. The organization completed a restoration of Rescue 4 in September 2011 and then acquired the last of the surviving FDNY rescues, Rescue 5, in December 2011.
During the restoration process, it became apparent that both rescues were in need of new tires to stand up to the demands of the touring schedule. Continental provided a new set of HTR2 (all position, steer) and HDR1 (drive) tires for each rescue to get them back on the road, said Clif Armstrong, Continental's director of commercial vehicle tire marketing – the Americas. Final restoration of Rescue 5 was completed in April with tire installation provided by Pomp's Tire Service in Chicago. Rescue 4's tire installation was provided in April by the City of New Smyrna Beach, Fla. Today, Rescue 4 and Rescue 5 are currently the only FDNY fire apparatus that served during the 9/11 attacks that are operating outside New York City, Gantz said.
"We'd like to thank Continental for their support of the Remembrance Rescue Project," Gantz said. "Through their support and the gift of new tires for Rescue 4 and 5, we can continue our mission to preserve these artifacts from one of the key events in modern American history, and facilitate educational sessions, memorials and remembrance events for 9/11. We are also expanding our mission to provide support programs and assistance to families of fallen firefighters."
"Continental is pleased that through our tire donation to the Remembrance Rescue Project, we can help keep these engines travelling continuously throughout the U.S. as a unique living history experience," Armstrong said. "It is our honor to ensure these rescues are kept as a memorial to all those lost on 9/11, and to help the Project with their efforts to develop support programs for families of firefighters killed in the line of duty."