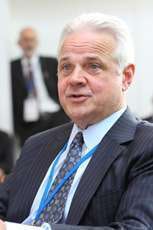 This past weekend, as the North Atlantic Treaty Organization welcomed leaders to discussions about security challenges at its annual summit in Chicago, leaders were joined by one of FedEx Express Chief Operating Office Mike Ducker, who participated in a roundtable that also featured Secretary of Defense Leon Panetta and Mayor Rahm Emanuel, as well as other business leaders from around the world.
"As political, military and business leaders gather in Chicago for the North Atlantic Treaty Organization summit, one of the great security challenges of the 21st century is energy security," said Ducker. "Given the international impacts of energy security, from rising demand in developing nations to geopolitical volatility in oil-rich regions of the world, this is an important opportunity for NATO countries and the broader international community to work together to turn the tide on this global challenge."
Ducker said that in order to address this challenge, and reduce the dependence of the U.S. and global economies on oil, FedEx invests in the future of technologies that can increase the efficiency of its transportation fleet. Electric vehicles, or EVs, are part of this investment. Six of FedEx's 130 EVs operate on routes in downtown Chicago, and FedEx will be studying various EVs with a local Chicago organization to help evolve all-electric vehicle technology, Ducker said.