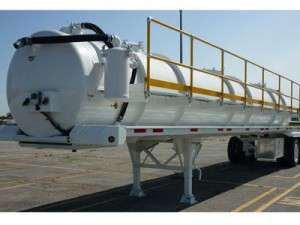 Wabash National Corp. announced production of its first carbon steel vacuum tanker, designed to transport bulk nonhazardous liquids primarily for the oil and gas industry.
"Wabash National continues to provide transportation solutions in new markets to grow the business and diversify product offerings outside of semi-trailer and van manufacturing," says Dick Giromini, president and chief executive officer of Wabash National. "Vacuum tankers are another example of how we are executing on our strategic plan by responding to growing equipment needs within the oil and gas exploration market to expand and grow while countering the cyclicality of our core business."
The new product offering will add up to 60 additional jobs for Wabash National in Lafayette, Ind.
"Through our Wabash Energy & Environmental Solutions business, we have been successful in leveraging our core competencies and existing physical assets to further expand product offerings in the energy sector," says Brent Yeagy, vice president and general manager of Wabash National. "As we learn more about this industry, we have discovered the advantage Wabash National brings from engineering expertise and proven performance in semi-trailer technology to create sophisticated carbon steel bulk liquid vessels and transportation equipment."