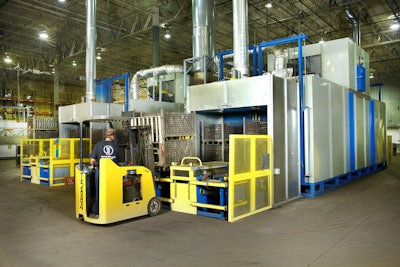 Meritor on Wednesday, June 20, announced it has invested more than $2.7 million in improving its remanufacturing facility in Plainfield, Ind., to meet its North American customers' growing need for remanufactured components, especially brake shoes.
Meritor says the improvements include six new pieces of production equipment, all currently installed and operational; two pass-thru ovens to aid in cleaning efficiencies; two latest-technologies "barrel blasters" that replace 14 pieces of equipment previously used; an additional dual-cylinder coining press and new automation to feed equipment with less material handling.
"This major investment in production equipment underscores our commitment to continuing Meritor's leadership position in the global remanufacturing business," says Joe Mejaly, president, Aftermarket and Trailer for Meritor. "We are dedicated to further enhancing our capabilities in remanufacturing technology to be the partner of choice for truck operators of all sizes, as well as dealers and distributors.
The 275,000-square-foot Plainfield structure also underwent a significant upgrade three years ago when the company invested $1 million into its painting system. Meritor says the painting system is an important tool that is used in manufacturing the PlatinumShield remanufactured brake shoe.
These additions have increased Meritor's daily brake shoe remanufacturing capabilities to nearly 28,000 units per day, the company says. The facility is open seven days a week during "brake season" and five days a week the remainder of the year. The Plainfield facility also is an all-makes remanufacturing center for brake shoes, Meritor says, meaning the facility can remanufacture Meritor brake shoes and shoes from other manufacturers such as Dana, Eaton or Bendix.
According to Meritor, remanufacturing recycles more than 30,000 tons of metal each year, and remanufactured brakes cost about 30-35 percent less than new brake shoes. Meritor says there are currently more than 15 million PlatinumShield brake shoes in service, and the company believes that success is a signal of the growing remanufacturing industry.
"We see the scope going beyond the mechanical-type products remanufactured in large quantities today and expanding into more sophisticated electronic components," says Doug Wolma, general manager, Global Aftermarket Operations for Meritor. "Our product portfolio will grow, change, shift and broaden to include electronics, controls and mechatronics."