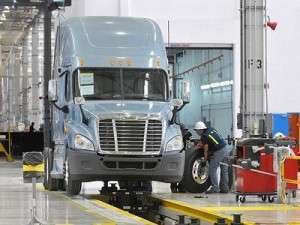 FTR Associates on Tuesday, June 19, outlined a significantly reduced Class 8 production forecast beginning in the second half of 2012, showing growth of only 3.4 percent this year with a decline of nearly 11 percent in 2013. FTR said its internal analysis over the last few months has been pointing to a possible slowdown and that recent market data has highlighted that concern.
FTR said that while its primary concern is the sluggish U.S. economy, other factors weighed on its decision to quantify the expected dropoff in stark terms. Bill Witte, principle of Witte Econometrics and adviser for FTR, said the U.S. economy did not fair well during much of 2011 and is not expected to perform nearly as well as once predicted through the balance of 2012 and into next year.
Further exacerbating the situation is the fact that as freight growth has cooled, fleets have pulled back on Class 8 orders to a level much lower than current OEM build rates. "OEMs continue to manufacture trucks at a rate unsustainable, in our view, based on the U.S. economic environment and the current Class 8 order activity," said Eric Starks, FTR president. "In light of this, as well as our less than positive view of the economy, we have significantly reduced our forecasts."
Starks said production levels for 2013 may be reduced further if there is no adjustment made to near-term build rates. "The economy is just not performing well enough to generate greater demand for new vehicles, and unless there is a marked change, we expect softer demand for Class 8 vehicles at least through next year," he said.
Of major concern noted by FTR is the oversupply of new inventory in the market that only will continue to worsen if OEMs continue to build at current levels. Retail sales activity is expected to be flat next year from 2012 levels, suggesting that the underlying demand in the equipment market will be healthy but not growing. The need for OEMs to right-size inventory will see production levels fall until the situation gets under control, FTR said.