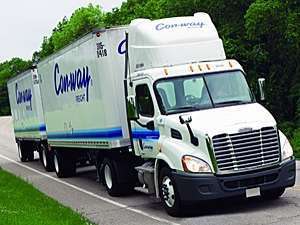 Con-way Inc. announced that five employees have been named recipients of the company's CEO Constellation Award that recognizes exemplary employees. In its sixth year, the employee recognition program draws from thousands of submitted candidates who were nominated by their peers as employees who best exemplify the company's core values of safety, integrity, commitment and excellence.
"The Con-way CEO Constellation Awards recognize the talent, skill, leadership and teamwork of outstanding employees," said Douglas Stotlar, president and chief executive officer of Con-way Inc. "Our people are the foundation of this company, and their commitment to our culture and core values sustains the value we deliver to our customers and shareholders every day. It is truly an honor to recognize these exemplary employees for their innovation, achievements and superior performance."
The five winners were chosen from 10 finalists drawn from a group of 21 President's Award winners. The 21 President's Award recipients were selected from 260 Quarterly Leader Award recipients, the names of whom were drawn from thousands of nominations submitted by employees. CEO Constellation Award winners each receive a sculptured crystal vase inscribed with their name, a monetary prize and a lifetime of recognition within the company.
Awards were presented last week by Stotlar and his executive leadership team at a special recognition event. Con-way's 2012 CEO Constellation Award winners are:
• Elaine Blair, senior business analyst, Menlo Worldwide Logistics, Aurora, Ill.:
• Bob Dolan, driver sales representative, Con-way Freight, Allentown, Pa.:
• Ron Durham, infrastructure manager, Con-way Enterprise Services, Portland, Ore.:
• Stephanie Klang, professional driver, Con-way Truckload, Joplin, Mo.: and
• Rich Nowicki, freight operations manager, Con-way Freight, Rockford, Ill.: