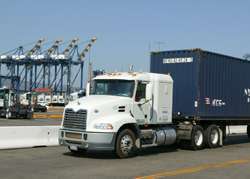 The Port of Los Angeles Clean Truck Program and its leadership team on Thursday, June 21, received top honors from the Coalition for Clean Air with the California Air Quality Award for 2012.
The Coalition for Clean Air recognized Los Angeles Mayor Antonio Villaraigosa, Los Angeles Harbor Commission President Cindy Miscikowski, former Harbor Commission President David Freeman and former Harbor Commission Vice President Jerilyn López Mendoza and Port Executive Director Geraldine Knatz.
"Our Clean Truck program is proof that economic growth and environmental sustainability are not mutually exclusive," said Villaraigosa. "I'm proud to play a role in a program that has greened our port for the long haul and ensured that Angelenos will breathe cleaner air."
Prior to the start of the Clean Truck Program in 2008, there was no accountability for the thousands of trucks that called at the Port of Los Angeles, said Miscikowski. "Today, we've slashed harmful emissions by approximately 90 percent, and each of the trucks hauling cargo meets the strictest clean air and safety standards of any port in the world," she said.
The program, which established a progressive ban on older trucks, also has introduced about 900 alternative-fuel trucks to the fleet and the testing of electric trucks.
Other honorees included Jay Leno for his longstanding dedication to the promotion of zero-emissions vehicles, and Martin Daum, president and chief executive officer of Daimler Trucks North America, for achievements in alternative fuel technologies in the Freightliner truck line.