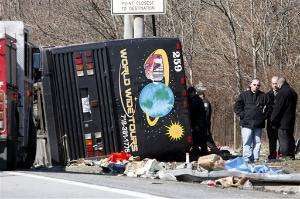 The National Transportation Safety Board has released its findings regarding a March 2011 bus crash in New York City that killed 15 people. In its report, NTSB determined that fatigue and speeding were contributing factors to the crash. The agency said the bus company, World Wide Tours of greater New York, also was to blame for not providing adequate safety oversight of the driver, Ophadell Williams.
NTSB also made recommendations in its report, calling for carriers to look at driver records going back 10 years, rather than the current three-year standard, arguing that three years does not provide a full history and prevents carriers from making informed decisions. The agency also recommended that all heavy vehicles be equipped with speed limiters.
The bus was returning to new York's Chinatown from an overnight trip to a casino when it struck a highway guard rail, turned over and crashed into the support pole for a highway sign. Federal regulators shut down the bus company for safety violations after the accident. but the company's employees, buses and other assets were transferred to a closely related bus company that continues to operate, investigators said.