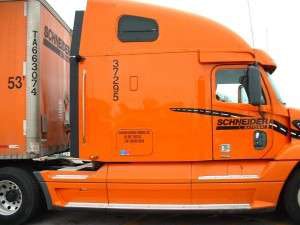 Commercial Fleet Financing Inc. is working with Schneider National to provide a low-cost financing program for used trucks for small business owners in the trucking and transport market. "Schneider put their trust in us, so we built them a custom program," says Jason Giese, program manager at CFF.
This program allows a trucker to generate revenue from their used truck purchase for two months without having to worry about a normal loan payment, helping their small business to be able to expand effectively while maintaining profit margins throughout the initial stage of fleet expansion.
The CFF program offers no money down and payments of $99 a month for the first two months for qualified buyers of Schneider Used Trucks for sale; after the first two months, normal payments would resume. Currently, this program is available only on Schneider National Trucks.