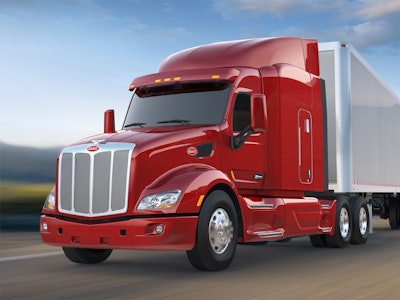 Peterbilt Motors Co. has announced the tour dates for the new Model 579's "Legend Continues Tour." Beginning in June and continuing through November, tour stops will take place at more than 40 Peterbilt dealer locations across the United States and Canada. The interactive tour will allow for dealers and their customers the opportunity to experience firsthand all of the new Model 579's features and benefits.
"This tour is designed to showcase the new Model 579 as well as share the excitement with our customers and dealers," says Bill Kozek, Peterbilt general manager and Paccar vice president. To view the itinerary, go to www.peterbiltlegend.com/579.
The tour features an interactive 53-foot double-expandable trailer with about 1,000 square feet of display space. The climate-controlled trailer includes kiosks and display properties that highlight the Model 579's design features, technology and performance.
The Model 579 Tour Trailer also will include the following:
• Cab and sleeper cutaway displays to allow customers to access the interior design of the cab and sleeper to experience the layout;
• An interactive "Technology Zone" that features design components of the Model 579 such as the headlamps, driver information panel, SmartNav and new multifunction steering wheel controls;
• Graphic depictions of the performance attributes of the Model 579, including videos of reliability testing to 2.2 million miles, aerodynamic efficiency and lightweight chassis design;
• Paccar MX Engine technology, highlighting key engine components such as the encapsulated wiring, connecting rods and robust camshaft; and
• Peterbilt's New Revolution Seats, featuring two-chamber lumbar support, adjustable side bolsters, adjustable suspension dampening, heating and ventilation options and additional storage pockets.
"2012 has proven to be one of our most exciting years as we celebrated the highly-anticipated launch of the new Model 579," says Robert Woodall, Peterbilt director of sales and marketing. "This exciting tour combined with the enthusiasm our dealers have for the 579 will provide an excellent experience to see firsthand the advantage of owning of this exciting new product."
Quad City Peterbilt Omaha NB 3-Jul
JX Peterbilt – Bolingbrook Bolingbrook IL 6-Jul
Peterbilt of St. Louis Sauget IL 9-Jul
Rush Peterbilt Truck Center – Denver Denver CO 17-Jul
Peterbilt of Wyoming Cheyenne WY 19-Jul
Montana Peterbilt Billings MT 23-Jul
Stahl Peterbilt – Edmonton Edmonton, Alberta CANADA 26-Jul
Allstate Peterbilt of Bismarck Bismarck ND 30-Jul
Allstate Peterbilt of Fargo Fargo ND 1-Aug
Peterbilt of Sioux Falls Sioux Falls SD 3-Aug
JX Peterbilt – Fort Wayne New Haven IN 7-Aug
Peterbilt of Cincinnati Cincinnati OH 9-Aug
Peterbilt of Louisville Louisville KY 13-Aug
Peterbilt Truck Center of Little Rock Little Rock AR 15-Aug
Peterbilt Truck Center of Shreveport Shreveport LA 28-Aug
Peterbilt of Memphis Memphis TN 30-Aug
Rush Peterbilt Truck Center – Phoenix Phoenix AZ 4-Sep
Rush Peterbilt Truck Center – Fontana Fontana CA 6-Sep
Rush Peterbilt Truck Center – Pico Rivera Pico Rivera CA 7-Sep
Kansas City Peterbilt Kansas City MO 12-Sep
JX Peterbilt – Indianapolis Indianapolis IN 14-Sep
Peterbilt of Northwest Ohio Findlay OH 17-Sep
Reefer Peterbilt Detroit MI 19-Sep
Peterbilt Ontario Truck Centres – Mississauga Mississauga, Ontario CANADA 26-Sep
Hunter Peterbilt Lancaster PA 28-Sep
G.L. Sayre Peterbilt Conshohocken PA 1/2-Oct
Utica General Peterbilt Albany NY 4-Oct
The Pete Store – Baltimore Baltimore MD 8-Oct
Piedmont Peterbilt Greensboro NC 10-Oct
Peterbilt of Bristol Bristol TN 12-Oct
Lookout Mountain Peterbilt Chattanooga TN 15-Oct
Peterbilt of Atlanta Atlanta GA 18-Oct
Peterbilt Truck Center of Birmingham Birmingham AL 22-Oct
Peterbilt Truck Center of Jackson Brandon MS 24-Oct
Rush Peterbilt Truck Center – Mobile Mobile AL 26-Oct
Rush Peterbilt Truck Center – Tampa Tampa FL 29-Oct
Palm Peterbilt Ft. Lauderdale FL 31-Oct
Rush Peterbilt Truck Center – Orlando Orlando FL 2-Nov
Rush Peterbilt Truck Center – Jacksonville Jacksonville FL 5-Nov
Peterbilt Truck Center of Savannah Savannah GA 7-Nov
The Pete Store – Columbia Columbia SC 9-Nov
Peterbilt Truck Center of Charleston Summersville SC 12-Nov
Rush Peterbilt Truck Center – Charlotte Charlotte NC 14-Nov
The Pete Store – North Virginia Richmond VA 16-Nov
Hunter Peterbilt Eau Claire PA 19-Nov
Columbus Peterbilt Grove City OH 21-Nov
Allstate Peterbilt Minneapolis MN 27-Nov